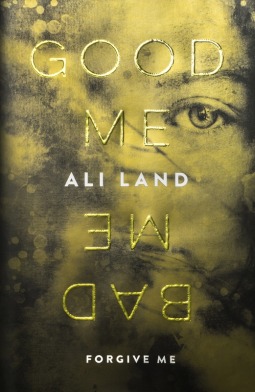 Synopsis
NEW N A M E .
NEW F A M I L Y.
S H I N Y.
NEW.
ME . '
Annie's mother is a serial killer.
The only way she can make it stop is to hand her in to the police.
But out of sight is not out of mind.
As her mother's trial looms, the secrets of her past won't let Annie sleep, even with a new foster family and name – Milly.
A fresh start. Now, surely, she can be whoever she wants to be.
But Milly's mother is a serial killer. And blood is thicker than water.
Good me, bad me.
She is, after all, her mother's daughter…
My review: 5/5
Good Me, Bad Me is based around Milly's story. Millie was Annie in her previous life before she was placed in foster care; Annie's mum killed little children – Annie told the police. Annie's mum is in prison awaiting trial  but Milly knows that Annie's mum will never leave her – she knows her inside out. Milly is torn between the good and bad self she believes exists inside her. These words are stark and slightly disjointed and this is how the book was written – from Milly's perspective as she comes to terms with her past, her present and her future. Despite the horrific nature of the crimes alluded to, we are never party to any graphic detail and it is this that makes the plot even more chilling than it already is. As a reader your mind can easily fill in the blanks and imagine the life that Annie was exposed to before she became Millie. The book is a focus on Millie's current foster placement and the family dynamics involved living with a family, who on the outside seem ideal but when the reader scrapes the surface we can see just how dysfunctional they really are too.
Milly/Annie is a complex 15-year-old and no wonder after what she has lived through; she comes across as slightly disassociated with an inner coldness but as a reader you can't help but be drawn to her vulnerability, her need for acceptance and her inner turmoil between the "good and bad". She is clearly psychologically damaged but your heart tears for her.
Phoebe – her foster-sister is the same age and belongs to the "mean girls" type of character; hugely popular within school but underneath the beautiful shell a cruel and sadistic creature exists – she is determined to make Millie's life hell and she does her best throughout the book to humiliate and hurt in a way that only teenage girls can do. However, underneath the shell there is also a vulnerable young girl who feels abandoned by her parents who she sees as neglecting her in favour of their "project" foster children.
Mike and Saskia are the foster parents and what a dysfunctional pair they appear to be – on the surface all would seem perfect to the outside world, Mike is a psychologist who seems to be on a mission to save troubled children, Saskia is an empty shell who has no real connection with anyone in the family and simply goes through the motions. I found myself getting so angry at both of them at times, despite their desire to help they were damaging the girls even further.
Good Me, Bad Me is based around the theme of abuse, abuse of vulnerable young people and as such it is not an easy read, it will perturb you and slither around your very being, you will not be able to let it go.
It actually hurt to read this book at times, I felt a physical pain in my heart as I made my way through the book; it was a harrowing yet compelling read. It absorbs your very being and you will find yourself unable to put it down. This book engaged my very being, I was dragged through every emotion with this story – I was chilled to the core, I wanted to cry my eyes out for all the horrors endured. It is a superb character study of a young girl who has been damaged beyond recognition by those around her – you will feel her pain, her horror, her need for acceptance and her twisted and disturbed views on the world around her and how she needs to make her place in it.
Good Me, Bad Me is going to be one of the top books of 2017 Ali Land's distinctive writing style will have the pages  will crawl under your skin and wind their way around your very soul.
Thank you to Netgally and Penguin UK, Michael Joseph for the ARC which I chose to read and review.