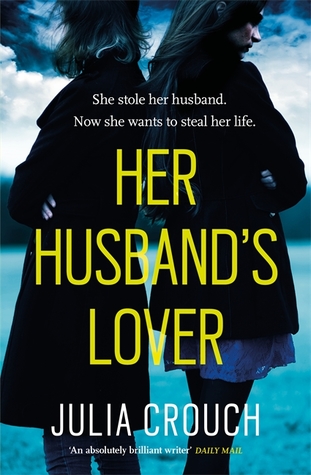 What the blurb says:
She stole her husband. Now she wants to take her life.
After the horrors of the past, Louisa Williams is desperate to make a clean start. Her husband Sam is dead. Her children, too, are gone, victims of the car accident in which he died.
Sam said that she would never get away from him. That he would hound her to death if she tried to leave. Louisa never thought that he would want to harm their children though.
But then she never thought that he would betray her with a woman like Sophie. And now Sophie is determined to take all that Louisa has left. She wants to destroy her reputation and to take what she thinks is owed her – the life she would have had if Sam had lived.
Her husband's lover wants to take her life. The only question is will Louisa let her?
My review: 5/5
Her Husband's Lover is a measured yet chillingly paced novel, full of twists and turns that will have you screwed up beyond belief by the time you have finished. No clear-cut or easy answers are provided here – you will be helplessly hurtled into a black hole that will leave you lurching from one clue to another as you try to make sense of it all!
Dark and twisted is the only way to describe the plot of Her Husband's lover – we start with the car crash and Louisa lying in a coma in hospital, her husband Sam and their children gone. Enter Sophie determined to avenge her lover's death – determined to make Louisa pay for what she believes she is owed and from there on in we are embroiled into what is undoubtedly one of the most chilling domestic noir novels of the year – seriously the author takes noir to a whole new level!
Sophie and Louisa narrate this tale and OMG what unreliable narrators they are! With the story told from both their points of view the reader will be reeling between despising and feeling sorry for both of them! Julia Crouch has excelled herself with the development of the characters in this book – they will manipulate you and play mind games with your brain, seriously you are not going to know who or what to believe throughout this book!
The novel gives you abuse, betrayal and deception all tied up into one mind-blowing plot. The reader is the mouse and Julia Crouch is the cat toying with your mind – this book left me on the edge of my seat and I literally could not put it down – so much so that this morning I was applying my make up and doing my hair with my eyes firmly glued on the pages! Julia Crouch I blame you for my slightly askew appearance this morning!
Thank you to Headline and Netgalley for the ARC which I chose to read and provide my honest review.