Well what to do on a dark, dreich Thursday night in February? Stay in and wash my hair? Do some household chores? Nah…I hopped on the train over to Stirling and headed for Waterstones to attend the #BookLaunch for Ross Sayers and his debut novel #MarysTheName and can I just say – what a wise choice that was!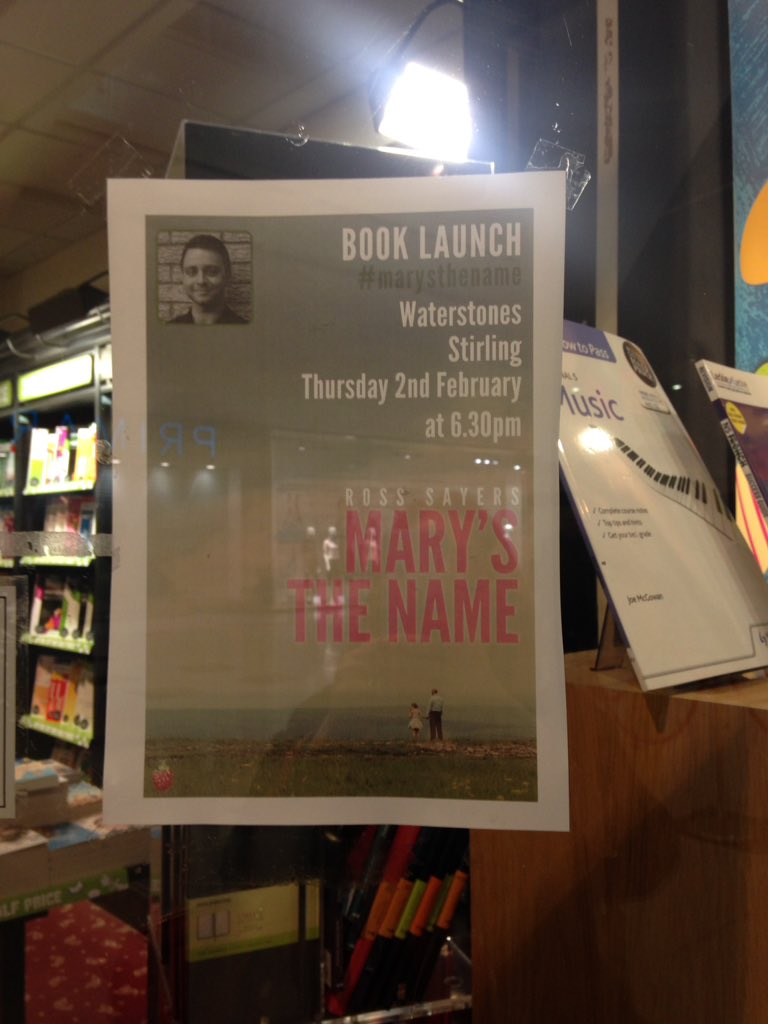 Entering the shop, I could hear music and chatter coming from upstairs, sounds busy I thought…BUSY was an understatement – this event was jam-packed! It was just after 6 and you couldn't move at all! Seriously, I thought I'd come to a gig and not a book launch! Excellent sounds supplied by Danny Mooney to warm up the audience before the big event!
Helen MacInven from #CranachanPublishing gave Ross a belter of an introduction and he filled the audience in on his journey to publication, what it was like to adopt the persona of an eight year old girl to write the book along with his unique approach to marketing – which involved Tinder! Seriously I don't think I've ever heard of anyone using the app to market their book before…Brilliant! Ross also gave us some insight into his research for the book and was a great plug for the tourist board in Skye! I'm delighted to hear that there is also another book underway…#tappingmyfingersimpatiently!
Ross also gave us a couple of readings from #MarysTheName with full apologies for his granny in the audience for all the #SwearyBits! But I think she was just so chuffed with her boy that he wasn't going to get a clip round the ear for that one tonight! It was a real family affair for Ross too, with his mum, dad and the rest of the family out to support him and can I just say his mammy makes the best cupcakes and empire biscuits ever!
Then it was time for the book signing – thankfully I managed to grab a book – as every single copy was sold out! The queue for signing was right round the shop – seriously Ross – I think you could have matched the book signing queue for Ian Rankin at Bloody Scotland there! Impressive!
It is no secret that I loved #MarysTheName, I've been shouting about it from the rooftops since I read it! And I'm still shouting about it now – if you haven't read it then why not – it's a fiercely emotional read that will have you reaching for the hankies to wipe away your tears as you laugh and cry all the way through the book!
Ross, it was a pleasure to meet you last night along with the lovely Helen from #CranachanPublishing – I'm delighted that the launch was a massive success and to be out here shouting about your debut novel – this is just the start of a fantastic journey for you and I'm looking forward to reading your next book….so please don't be too hungover from last night and get writing now…you have a growing fan base waiting!
You can read my full review for the book here:
And to buy it then just click below: