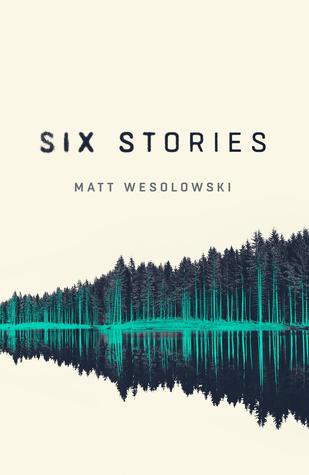 Whenever Karen Sullivan from #OrendaBooks asks me to take part in a #BlogTour I feel a wee fizzle of excitement in my tummy – well actually a huge explosion of excitement to be honest! Karen always seems to pick books that she somehow knows I'm going to love! That woman has got a #SixthSense! Well, she may not have a sixth sense but she certainly has got #SixStories by Matt Wesoloski and I am delighted to be hosting today's spot on the blog tour for this novel!
What the blurb says:
The novel is constructed as a series of podcasts, in which an investigative journalist describes the circumstances around the death of a teenaged boy in an outward-bound centre, interviewing witnesses, suspects and people close to the incident. Their six accounts form the six stories of the title, creating a "chilling and compelling, page-turning thriller that also delves deep into notions of truth, perception and loyalty.
1997. Scarclaw Fell. The body of teenager Tom Jeffries is found at an outward bound centre. Verdict? Misadventure. But not everyone is convinced. And the truth of what happened in the beautiful but eerie fell is locked in the memories of the tight-knit group of friends who embarked on that fateful trip, and the flimsy testimony of those living nearby. 2017. Enter elusive investigative journalist Scott King, whose podcast examinations of complicated cases have rivalled the success of Serial, with his concealed identity making him a cult internet figure. In a series of six interviews, King attempts to work out how the dynamics of a group of idle teenagers conspired with the sinister legends surrounding the fell to result in Jeffries' mysterious death. And who's to blame … As every interview unveils a new revelation, you'll be forced to work out for yourself how Tom Jeffries died, and who is telling the truth. A chilling, unpredictable and startling thriller, Six Stories is also a classic murder mystery with a modern twist, and a devastating ending.
My review:
Six Stories is narrated through a series of podcasts from investigative journalist, Scott King who interviews a group of friends who were present when teenager, Tom Jeffries went missing in 1997. The podcasts are interspersed with the account of Henry Saint Clement-Ramsey, who found the body almost a year later. It took me a wee while to get used to the format but once I did, I was hooked! Spine tingling and sinister were the two words that sprung to mind as I read on – I felt as though I was caught up in an infernal horror story with no escape! Scarclaw – I mean that name – what does it conjure up for you?- for me, it was a bleak landscape, murky undergrowth, hidden dangers and grotesque mythical beasts emerging from the dark to devour those who strayed from the norm. A horrifying, spine tingling journey into the lives of a close-knit group of teenagers and their fateful trip 20 years ago.
With each podcast the reader is introduced to key players within the novel; as a reader you may start out your journey with some pre-conceived ideas about each of the characters, but truths, lies and questions are uncovered as you read through the novel and I swear the hairs on the back of my neck were straining as they stood up throughout this book! Out of all the characters, my sympathies lay with Haris Novak, a vulnerable young man caught up in an almost feral,  alpha male battle with the females as almost emotionless bystanders as events unfolded. As a podcast listener via the book we are awakened to the character defects as each individual emerges; it was hard to feel pity or empathy of any of them. Each character appeared to want to manipulate the interview to show themselves in the best light and (apart from Haris who was painfully honest) and to distance themselves from the events. However, Scott King was able to probe in a manner which poked at their consciousness
The novel  uses very up to date references and makes full use of today's dependence on social media as a platform for dissemination of information, discussion and debate; explored the whole issues around teenage angst; relationships with adults and peers and the issue of social dominance; Six Stories covers the impact that events in our formative years have for a long time and the ripple effect felt by others; urban legends
I felt completely manipulated by the characters; my emotions were twisted as new "facts" are uncovered with each podcast; I felt a sense of being a voyeur watching a horror show unfold; I had the fear, within 20 mins of falling asleep after finishing the book I woke up with absolute night terrors! compelling; atmospheric, spine-tingling, it's the unseen terrors that cause us the most fear – think Blair Witch project with bells on it! Read it and weep!
About the author:
Matt Wesolowski is an author from Newcastle-Upon-Tyne in the UK. He is an English tutor for children in care and leads Cuckoo Young Writers creative writing workshops for young people in association with New Writing North.
Wesolowski started his writing career in horror and his short horror fiction has been published in numerous magazines and US anthologies.
Wesolowski was a winner of the Pitch Perfect competition at 'Bloody Scotland'; Crime Writing Festival 2015 and his short crime story 'Tulpa' was subsequently published in the Northern Crime One' anthology (Moth Publishing 2015). His debut crime novel 'Six Stories' will be available through Orenda Books in the spring of 2017
You can follow Matt on twitter @concretekraken and his blog can be found at https://mjwesolowskiauthor.wordpress.com/
To buy the book get yourself over to Amazon and get clicking now….like right now!