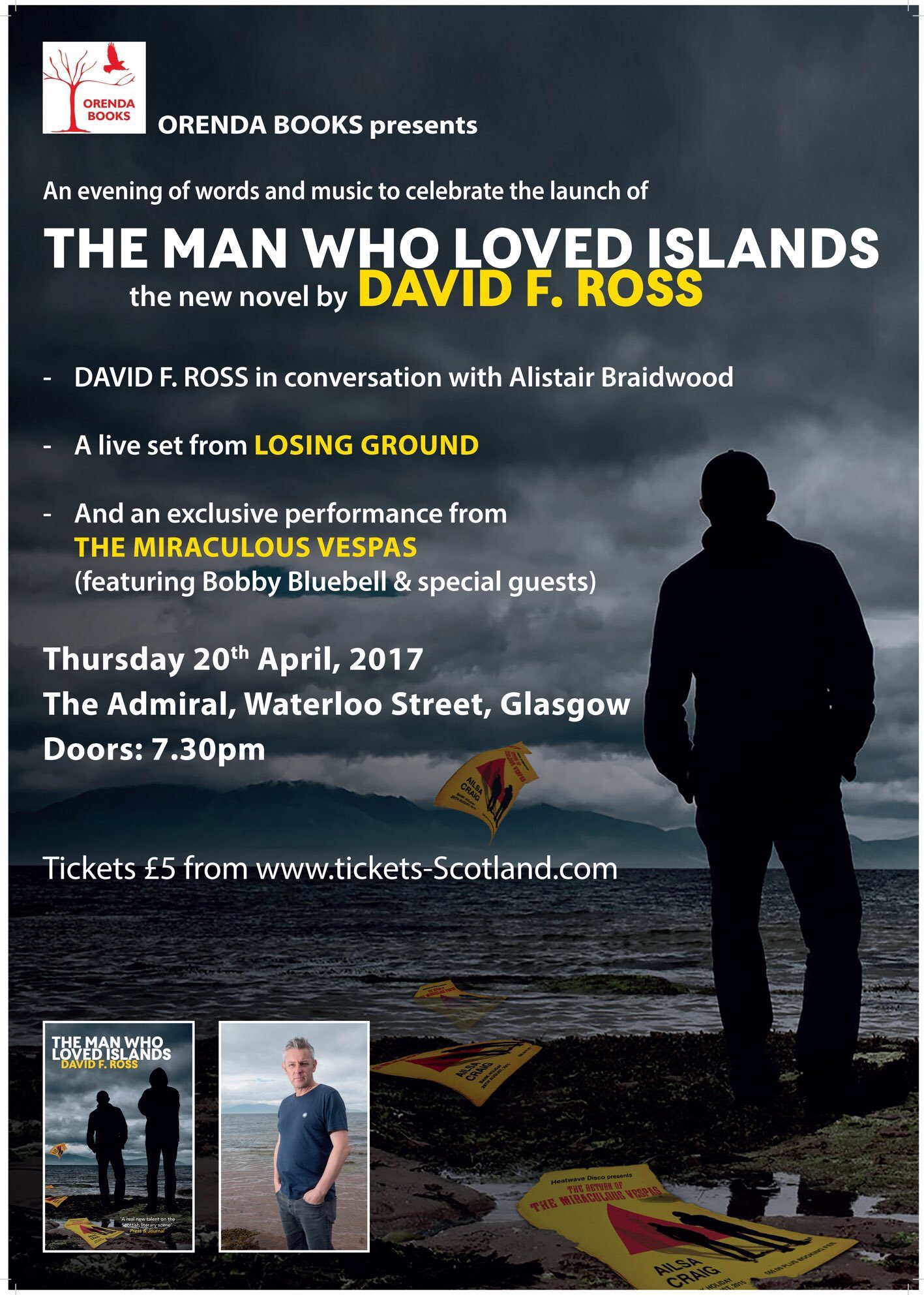 Well, Glasgow was spoiled for choice last night with some brilliant book events taking place over the city in just one night! We had Chris Brookmyre at The Mitchell Library; Mason Cross in Waterstones, Argyle Street and Stuart MacBride in Waterstones, Sauchiehall Street. I, however, took myself off to The Admiral Bar in Waterloo Street for the launch of #TheManWhoLovedIslands with David F Ross and an exclusive performance from The Miraculous Vespas, featuring Bobby Bluebell and special guests!
As book launches go this was something just a little bit different – and you know what it worked so very well! The Man Who Loved Islands is the third in David's trilogy which began with The Last Days of Disco and was followed by The Rise and Fall of the Miraculous Vespas with accompanying playlists that are a must for any music fan growing up through the 80s – so what better place to hold the book launch than in a pub along with a guest appearance from the Vespa's themselves!
If you grew up in the 80s in Scotland then these books are going to take you hurtling back in time to a place where you had the world at your feet and anything was possible – the gritty, dark Scottish humour just oozes out of the novels and you cannot fail to be engrossed by them (and p.s even if you didn't grow up in Scotland in the 80s then you are still going to be bowled over by these books)
It is clear that the books are heavily influenced by David's experiences and his love of music; on stage, he could very much have been one of the characters from the book. He veered towards selling The Man Who Loved Islands as a dark and depressing read of lost hopes and dreams and the stark realisation that we seem to get when we hit 50 that it's too late for regrets, but the audience were soon disabused of that notion as David gave us a hilarious and most very Scottish reading from the book where you are under no illusion as to the humour that lies within!
My review for #TheManWhoLovedIslands was part of the #BlogTour earlier this month and can be found here:-
The Man Who Loved Islands Review
But don't just take my word for it, head on over to Amazon and get yourself the set!