While it's almost impossible to choose a favourite bookshop, I do have to say that Caron and the team at Waterstones, Argyle Street in Glasgow almost always put on the very best book launches and last night's launch for Douglas Skelton's "Tag – You're Dead" was no exception! It was standing room only for this star-studded event with Gordon Brown, Graham Smith, Matt Bendoris, Claire MacLeary and a whole host of others turning out to support Douglas for the launch of this BRILLIANT book! You can read my review for the book here Tag – You're Dead: Review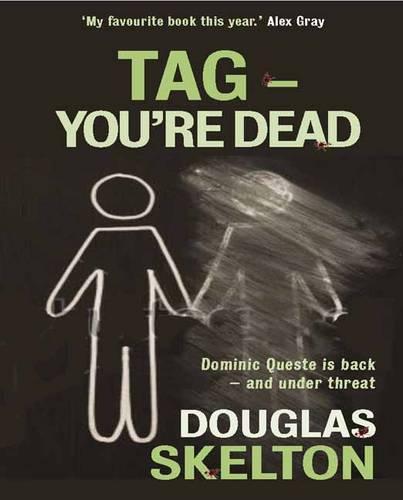 Douglas was lucky enough to be in the capable hands of the fantastic Caro Ramsay for the evening and this meant that the audience were treated to an hour of wit, banter and witnessing Douglas being torn to shreds in the nicest possible way of course! May 4th, of course, means Star Wars day and Caro had spent the day trying to fashion a Princess Leia costume from a set of headphones and wagon wheels – for some strange reason this did not work and so she put the wagon wheels to good use by setting random questions to audience members and launching the biscuits at the winners! She did also manage to launch one quite successfully at a ceiling light! A whole new angle to a launch night indeed!
Of course, we were there to hear about the book and Caro grilled Douglas on the characters, plot and his writing plans for the future. Douglas admitted that his plots come to him as he writes and he often starts writing a book with no idea of where it is heading at all! I have to say after reading all of Douglas's books that this ploy has served him very well!
When asked who his character Dominic Queste is based on then Douglas was keen to let the audience know that he is very much a mirror image of himself – we were unsure as to why Caro began snorting at this point!
Caro was quick to point out her disgust at the "meatiness" of Tag and suggested that Douglas considers a vegan alternative to his plot! He pondered this for a moment but it was clear that he felt the visceral punch offered by the swaying carcasses in the butcher's shop was greater than a slap with a limp lettuce leaf!
Despite having submerged her copy of Tag in the bath, Caro was able to tell us that Douglas made 59 references to movie titles in the book – there is definitely a soundtrack playlist in there somewhere!
The questions were opened up to the audience who were all clamouring to win one of the exclusive Dominic Queste mugs designed especially for the event! Some fab questions and worthy winners were Les Woods with a soundtrack question and Lisa Gray who asked which character Douglas would go to the pub with! Gordon of Grabthisbook and I were not bitter at all…insanely jealous but not bitter!
Thank you guys for another fab night!
To buy Douglas's books visit any good bookshop or head on over to Amazon: