As I read, I often like to have a little nibble and snack and so I began to think what sort of food would best go with some of my favourite books! I thought that I would treat you all to some recipes for food that I might eat alongside reading the book!
Exquisite by Sarah Stovell – set in the Lake District this book is going to be one of the top reads of 2017! Published by Orenda books and out in June 2017, all I can say is don't miss it! My review for this chilling psychological thriller will be part of the forthcoming blog tour! 
To purchase #Exquisite please click the link below
A perfect accompaniment for this would be some Grasmere Gingerbread yum!
Ingredients:
250g plain flour or fine oatmeal (or 125g of each – which is what I did)
125g pale soft brown sugar
1 teaspoon ground ginger
1/4 teaspoon baking powder
150g lightly salted butter
Method
1. Preheat oven to 180C/350F/Gas mark 4.
2. Line an oblong tin with baking parchment – mine was roughly 19.5cm by 29.5cm and was as deep as a swiss-roll tin.
3. Mix the dry ingredients together.
4. Melt the butter and add to the dry ingredients.
5. Spread the mixture over the tin in a thin layer, pressing it down lightly.
6. Bake until golden brown – about 30/35 minutes.
7. Mark into squares/rectangles as soon as you have taken the tin from the oven, but allow to fully cool in the tin before removing gingerbread.
~~~~~~~~~~~~~~~~~~~~~~~~~
2. Sealskin by Su Bristow, again published by Orenda books is set in the Hebrides and retells the beautiful Selkie legend. The book transports us to a different world, subtly and beautifully exploring what it means to be an outsider and our innate capacity for forgiveness and acceptance. Rich with myth and magic, Sealskin is, nonetheless, a very human story, as relevant to our world as to the timeless place in which it is set.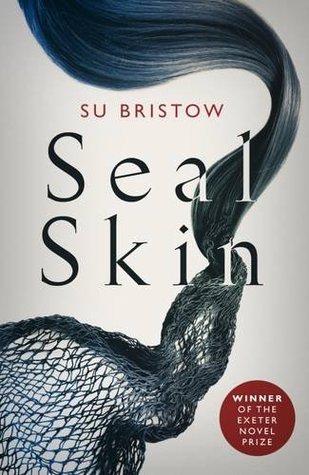 To purchase #Sealskin please click the link below:
Now I can just imagine coorying up in my PJs with a cup of tea and some Hebridean oatcakes and cheese!
To make the oatcakes:
Ingredients:
8oz medium oatmeal 
1/2 tsp salt
1/4 tsp baking powder
1 oz melted butter
about 2-3fl oz boiling water.
Method:
– Put all the dry ingredients in a bowl and mix together.
-Add the melted butter and enough of the water to make a stiff dough.
-Sprinkle a little more oatmeal on the work surface and place the dough on here.
-Gently roll into a thick-ish circle, about 1cm or so thick. It is a bit crumbly so don't be too vigorous with it!
-Cut into triangles with a knife and place on a greased baking tray.
– Bake in the oven at 170C for about 20 minutes.
-When they are done, carefully lift them onto a wire rack to cool down.
                                           ~~~~~~~~~~~~~~~~~~~~~~~~~~~~~
3. Tag, You're Dead by Douglas Skelton and published by Contraband ( an imprint of Saraband Books)  If you like Scottish crime fiction and are partial to a little dark humour in your life then you are going to love this book!Raymond Chandler meets Glasgow gangland:  Dominic Quest is a breath of humorous fresh air in what is a dark, fast-paced, one liner wisecrack of a read! And if you have read the book then you will be aware the mention of award-winning steak pies throughout are enough to tempt the staunchest vegetarian!
To purchase #Tag please click the link below:
Ingredients: Serves 6
– 6 rump steaks
– Salt and pepper to taste
– 1 tablespoon olive oil
– 1 onion
– 2 glasses red wine
– 1-litre beef stock
– 2 egg yolks
– 500g puff pastry
Method: Just Say Aye To The Pie
1. Heat the oven to 120C and warm a pie dish.
2. Cut rump steaks into cubes and season with salt and pepper.
3. Heat olive oil in the pan to high and quickly brown the steak cubes in batches, placing in pie dish once browned.
4. Chop onion into pieces and mix with steak in the pie dish.
5. Add the wine to the pot you browned the steak in and reduce by half, scraping all the steak bits and juices from the bottom of the pot. Add beef stock to the wine, mix and heat through.
6. Add the stock and wine to the beef in the pie dish, cover tightly with foil and place in the oven for 2 hours, checking and stirring occasionally.
7. Allow to cool, then refrigerate overnight to let the meat soak in the juices from the gravy.
8. The next morning heat oven to 200 C / Gas 6. Remove foil from pie dish and place in oven for 30 minutes. Add more stock if gravy is too thick or cornflour mixed first with cold water if it's not thick enough for you.
9. Roll out puff pastry and cover pie dish, brush with egg yolk.
10. Return to oven and cook for a further 20 minutes or until pastry is as brown as you like it. Serve with vegetables and mashed potatoes.
~~~~~~~~~~~~~~~~~~~~~~~~~~~~~~~~~~
4. A Suitable Lie by Michael J Malone, published by Orenda Books and a brilliantly written psychological thriller that will turn some common stereotypes firmly on their head! For this, I've chosen Mince and Tatties as I see Andy's mum in the book as a right wee Scottish mammy who would make her boys some traditional dinner to keep them going!
To purchase the book please click the link below:
A Suitable Lie – Michael J Malone
INGREDIENTS
500g minced Scotch Beef
1 onion, peeled and diced/chopped
2 medium carrots, peeled and diced
1 small stick of celery, diced
1 tbsp vegetable oil
2 tbsp plain flour
600ml beef stock
2 tbsp Worcestershire sauce
Freshly ground black pepper and salt
COOKING METHOD
In a broad-based pan over a medium heat, fry the diced vegetables in the oil for about 5 minutes until softened but not brown, then increase the heat, add the meat to the pan and fry until it is well browned about 8-10 minutes.
When the meat is browned, slightly reduce the heat then sprinkle the flour over the meat and veg and stir for a couple of minutes to cook the flour.
Add the stock, Worcester sauce, salt and pepper. Stir while the sauce comes gently to the boil and begins to thicken.
Simmer, covered, for about 30 minutes adding more stock as necessary, until everything is tender.
Serve the mince in shallow bowls with buttered mash or boiled potatoes and a twist of black pepper.
~~~~~~~~~~~~~~~~~~~~~~~~~~~~~~~
5. Steven Dunne and The Reaper series published by Headline
Probably one of my all time favourite Police Procedural series, Steven Dunne has produced a thought-provoking and twisted series that will keep you guessing all the way through! I'll bet Damon Brook starts off his day with a full Derbyshire breakfast! I don't think a recipe is required for this, do you!
To purchase the books please click the link below:
~~~~~~~~~~~~~~~~~~~~~~~~~~~~~~~~~~~~~~~~~~~~~~~
6. Mary's The Name by Ross Sayers and published by Cranachan Publishers. This heartwarming story of wee Mary and her grandad on the run from the bad guys is sure to bring a tear of laughter as well as sadness to anyone's eye! And you can guess the recipe here, it has got to be Cranachan, hasn't it!
To buy the book click the link below:
Ingredients:
5tbsp porridge oats
150 ml (5 fl oz) whipping cream
150 g (5 1/2 oz) fromage frais
2 tbsp clear honey
2 tbsp whisky
400 g (14 oz) raspberries
Method:
Preheat the grill to high. Line the rack in the grill pan with foil and spread the oatmeal over the foil. Toast under the grill for about 3 minutes, stirring once or twice, until the oatmeal is golden. Set aside to cool for about 15 minutes.
Put the cream and fromage frais in a bowl and whip together until thick. Stir in the honey and whisky, then fold in 4 tbsp of the toasted oatmeal.
Reserve a few raspberries for the decoration. Layer the remaining raspberries with the cream mixture in 4 glass serving dishes, starting with raspberries and ending with a layer of the cream mixture.
Decorate each dessert with a sprinkling of the remaining 1 tbsp toasted oatmeal and the reserved raspberries. Serve immediately (or keep in the fridge for up to 1 hour before serving).
~~~~~~~~~~~~~~~~~~~~~~~~~~~~~~~~~~~~~~~~~~~~
7. Bloq by Alan Jones/Ailsa Publishing
A gritty crime thriller. Glasgow man Bill Ingram waits in the city's Central Station to meet his daughter, returning home from London for Christmas. When the last train pulls in, and she doesn't get off it, he makes a desperate overnight dash to find out why. His search for her takes over his life, costing him his job and, as he withdraws from home, family and friends, he finds himself alone, despairing of ever seeing her again.
Bloq sits up there in one of my all time favourite reads and what better to sit back and read about Bill's search for his daughter on the London streets than a good old portion of fish'n'chips straight from the newspaper! This one can be cooked at home but for the best experience, I'd suggest popping down your local chippy and settling back and enjoying the book!
To buy Bloq then click the link below:
I don't know about you – but I'm starving now! I'd love to hear what your favourite foods to accompany your favourite book would be!