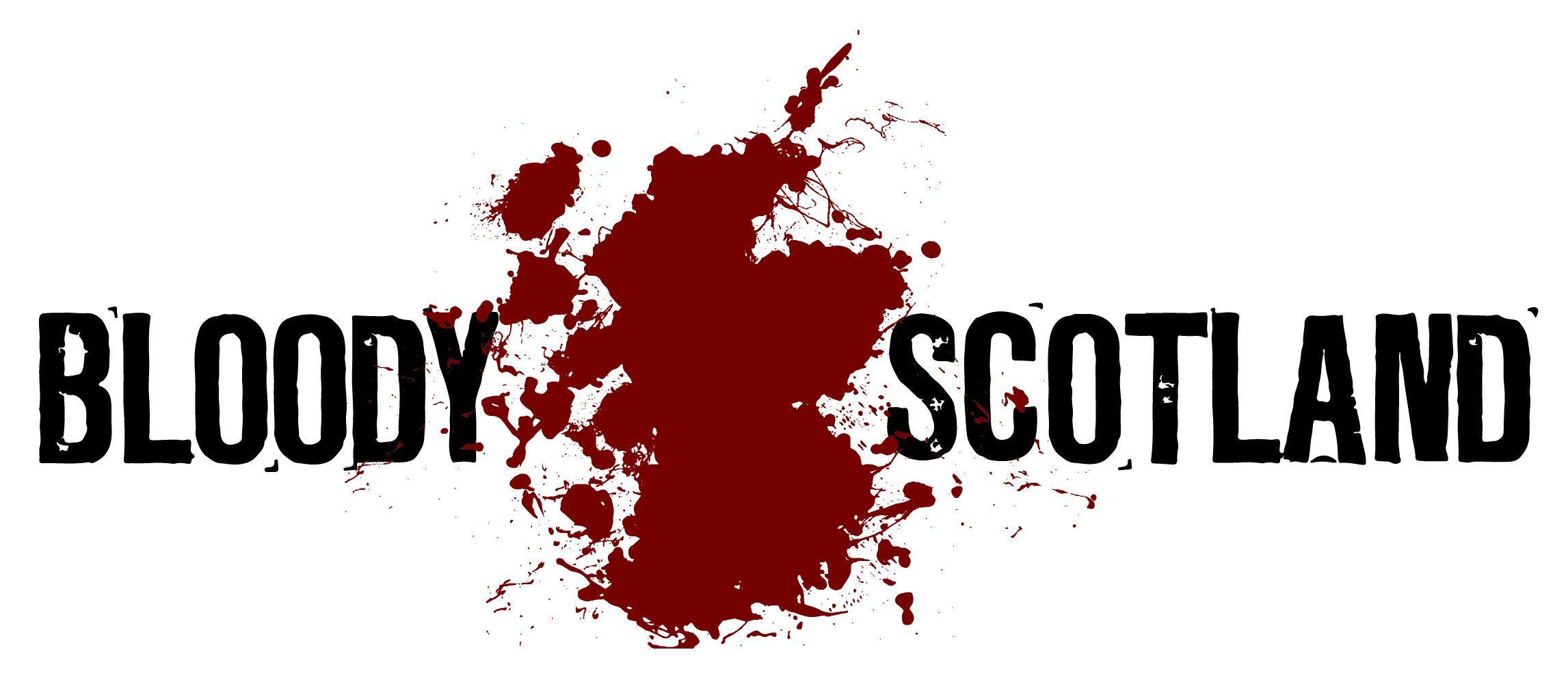 In the run up to Bloody Scotland, 2017 I am delighted to welcome Director of the festival, Bob McDevitt along to Chapterinmylife.
Now in its 6th year, Bloody Scotland goes from strength to strength with attendance increasing each year; it is the top event for Crime Fiction fans and writers North of the Border and is the one date firmly etched in diaries long before the planning even begins!
To say that I was excited about the opportunity to meet up with and interview Bob is a bit of an understatement! I think my favoured word for my feelings would be buzzing! Bob is a bit of a book festival icon for me – he has been instrumental in bringing together some of the best book festivals in Scotland, showcasing some of the country's top talents as well as being supportive of lesser known writers, self-published authors and bloggers alike. Here was my chance to catch up with him and hear what he had to say about the festival and to find out a little more about the man behind the festivals!
Pitching up at The Tron Bar & Kitchen on a typically miserable Glasgow Monday, I must admit I was feeling slightly nervous! Although I have featured authors on my blog and been involved in a number of events, this was my first official face to face interview! But I needn't have worried, Bob was the most charismatic, charming and informative interviewee and I could have easily sat and chatted with him for hours!
Before we get on to talk about Bloody Scotland, can you tell us a wee bit about Bob McDevitt – background and how you came to be involved in the world of Book Festivals?
My career began as a Bookseller for Waterstones in the early 1990s, firstly in Edinburgh before moving through to Glasgow. I gradually took on the role of Events Organiser and this was something that I thoroughly enjoyed, from organising bookstore signings and meeting the authors to organising the bigger events in venues such as the Concert Halls and the Armadillo.  I then moved into the publishing world with Headline as a sales rep in Scotland before moving down to London where I became Accounts Manager. Here  I was responsible for WHSmith, Waterstones, and Amazon (at that point Amazon had a much smaller profile than it does now). I became homesick for Scotland and in 2004 moved back North of the Border where I worked for Ottakars before moving back to Headline as a publisher. In 2011 I was made redundant and this presented a new opportunity in my career. I began working with Dundee Literary Festival, Pitlochry Winter Words, Aye Write and last year became the Festival Director for Bloody Scotland when Dom Hastings stood down. So there you have my potted career history over the last 25 years or so!
As well as being in the driving seat of Bloody Scotland and Aye Write you also organise the Winter Words Festival in Pitlochry, can you tell us a bit more about these events?
The Winter Words Festival is quite a different event, it is not necessarily a book festival, it's a festival of words and can include poetry, creative writing, and current affairs – it is not necessarily always an author talking about their book. Winter Words has a very different audience to the other two festivals who look for topics such as wildlife, politics, travel, and adventure – subject matters that may not have as large as an appeal at the other two. It is similar to Bloody Scotland in that it takes place over a weekend and like Bloody Scotland, it is a destination event where people come to stay for the weekend to attend. Aye Write on the other hand is very much a city festival where the audience come along to attend events and leave again. 
Aye Write is probably the biggest in terms of organising and the number of events taking place; Bloody Scotland has the biggest social media presence while Winter Words is a slightly tamer and more sedate event. I love every one of them, each offers something a little bit different and that's what makes them what they are. 
How much pressure do you feel being the "man at the top" of all three festivals?
To be honest I don't feel under pressure with each festival, in terms of timing,  dovetailing into each other. Bloody Scotland has a very active Board and a great team working behind the scenes to provide ongoing support. I suppose Aye Write is more of "my gig" as the programming committee have more of an advisory role than hands on approach. It is also backed by Glasgow City Council and Glasgow Life who offer technical and media support. Here I have a greater control over the festival programme whereas at Bloody Scotland I'm involved in everything from venue and accommodation organising to the management of audio visuals and social media. The pressure is there in terms of working to a timetable but I don't feel isolated in what I do with a great team of support across all three festivals.
How do you see Bloody Scotland developing over the next few years? there have been a number of developments with Val McDermid's Escape Room and the Crime at the Coo events – what comes next? 
Bloody Scotland has only been running for 6 years but already it has developed a reputation for being slightly "quirky". We are known for having something a little different going on and so we are always on the lookout for something new. This year, for example, we are holding the Gala Opening and McIlvanney Prize  in Stirling Castle followed by a Torchlight Procession and Never Mind the Buzzcops – our Friday night quiz featuring Val McDermid, Craig Robertson, and Mark Billingham and this will be followed immediately by the gig of the  year – "Fun Loving Criminals" – featuring the musical talents of Doug Johnstone, Mark Billingham, Stuart Neville, Luca Veste and Val McDermid! This is one gig you will not want to miss!
Another first for Bloody Scotland this year is the Fringe Festival which will include a panel of self-published authors talking about their self-publishing journey. This panel was driven by author Alan Jones (Bloq) who will be appearing alongside Alison Baillie-Taylor (Sewing the Shadows Together and David Videcette (The Detriment). Also part of the Fringe will be Debut: A Live Podcast from author Charles E McGarry; A Tale Etched in Blood and Hard Black Pencil, a play adapted from Chris Brookmyre's novel and The Stirling Old Town Explorer, a walking tour discovering the gruesome secrets of the Old Town. 
What happens with Bloody Scotland is that we introduce a new event and it proves so popular that we run it every year, e.g. Crime at the Coo, The Scotland V England Football all become part and part of the festival. Last year we ran Alanna Knight's play and it was a huge success so we have a sequel to this taking place this year. It's easy for events to become Bloody Scotland staples so we need to be constantly looking out for something new to bring to the table.
In the run up to Bloody Scotland, what's a typical day in your life?
There is no such thing as a typical day! Obviously, the pace is very much dictated by priorities, starting off with the programme planning which is then followed by the production of the programme. We then move onto our launches in both Stirling and London before the focus falls on the McIlvanney prize with scores for the longlisted books collated before being sent off to the judges. I'm also involved in arranging venues and accommodation for authors, agents and publicists so it is really all systems go from day one! Although the programme is launched on the 1st of June and the festival doesn't start until September those months fly in and priorities change as the event moves closer.
How many requests do you get from authors/publishers to appear at the festival?
This year, combining Aye Write and Bloody Scotland, around 250 books were pitched for the festivals! That is a lot of books and this is where the Board step in and help choose who will make up the panels at this year's event. They look at trends in publishing, who has appeared before, who has not been before and what is proving popular at other events. With so many books being pitched it is impossible to read them all and so panelists are not chosen on the "best book" basis, really it is a slightly indefinable process where the Publishers play a big part in terms of promoting their authors to the Board. This year over 88 writers are appearing at the festival and these are not all the "big" names, there are a number of authors who have never appeared before, debut authors and those who have self-published. Events such as "In The Spotlight", "Pitch Perfect" and "Alex Gray's New Crimes" are all evidence of the festival's commitment to supporting new blood. The festival aims to be as inclusive as it possibly can be. Of course, we have a core of around 6 established crime writers who appear every year and these authors are an integral part of the festival from their role on the Board to their place in the very heart of Scottish crime writing fiction. It would be impossible to have a Scottish Crime Fiction Festival without them being there.
Literary Festivals are becoming increasingly popular – why the increase in their popularity?
I think that people like the experience of being in the room with other people experiencing the same thing as they are and with something like Bloody Scotland where you have a genre that people are really passionate about they relish the opportunity to get together with others with the same passion. Crime fiction, in particular, has always been a popular genre and the festival experience adds to the popularity. In general Crime writers are pretty decent people, they are accessible to the readers and those attending Bloody Scotland know that they are going to get that unfettered access to their favourite authors; they can go into the pub and know that Val McDermid, Ian Rankin, and Lin Anderson are going to be sitting in there like everyone else and that they are happy to chat with fans, sign books and answer questions. 
Is there much competition between all the book festivals and do you work together with organisers of events in Edinburgh, Wigtown, and Dundee?
Geographically, Scotland is a small country and the book world is a small world! We all talk to each other and support each other's events. It's a much better way of working, it would make no sense to be competitive – the audiences are audiences across the book festivals and it would look bad for events to be seen as misbehaving and falling out!
You must get offered a lot of books – which genre is your favourite and do you have a favourite author?
Oh yes, there is never a shortage of books in the McDevitt household! It's great, it gives me a real opportunity to have a look at what's out there, what's coming up and what to look out for. I'm not an exclusive crime fiction reader although I have always worked with crime writers. My involvement in the three festivals encourages me to read books and genres that I may not have chosen or indeed known about as I like to be aware of the work of the authors attending the festivals. I don't really think I have a preferred genre, I enjoy crime fiction but then I also enjoy non-fiction including science and politics.
The other string to your bow is photography and I know you do author promotional pictures – who was your most intriguing subject?
Yes in my spare time (what spare time he laughs) I am a photographer and I really like to photograph people whether as professional headshots for authors, theatre photography or family events. My love of photography stemmed from my interest in Theatre, in fact, tomorrow I am going to photograph 9-5 at the Citizen's Theatre. It is very much a switch off from the world of books and it is my chance to be creative. Festivals are about facilitating creative people but my photography is about nurturing my creativity.
My most intriguing subject, and indeed one of my favourite photographs is of William McIlvanney (below) taken at Dundee Literary Festival. William was starting to look at little older at this point and his health hadn't been that great but he still had the most amazing piercing eyes and was an incredibly handsome man. It is one of my favourite pictures and I am glad to have had that opportunity before he sadly passed away.
Have you ever thought of stepping over to the other side and writing a novel yourself?
Absolutely not! I have no interest whatsoever, nor the concentration needed, to write a book! I can write and I know the difference between what makes good writing and what bad writing is but there is no hidden novel in me waiting to appear!
For anyone reading this – you can only attend one book festival this year – why should it be Bloody Scotland?
If you want an outstanding weekend, the chance to attend some amazing panels, to meet some fantastic people and to soak up an atmosphere of infectious fun, then Bloody Scotland is the place to be this September!
I'd recommend that you get your tickets fast, sales are up on this time last year and already we are predicting that some events might sell out! The Gala Opening, Ian Rankin's "30 Years of Rebus" and "Understanding Jimmy Perez" with Ann Cleeves and Douglas Henshall are going fast! Ones to watch are "From Tinseltown to Sin City" with Chris Carter and Mason Cross; "Thrilled to the Bone" with Simon Kernick, Haylen Beck and Simon Toyne and "Location, Location, Location" with J.G Sinclair, Tony Black, and L.A. Larkin. 
A huge thank you to Bob for taking the time out of his busy schedule to have a chat! I came away with some fascinating information about what goes on in the run-up to a book festival as well as finding out a little bit more about the man that is Bob McDevitt! I do have to say after that interview I'm looking forward to Bloody Scotland 2017 even more than I already was – if that is even possible!
I've looked at the programme over and over again and my only complaint is that I cannot possibly clone myself to attend each and every session over the weekend. There really is something for everyone and every year I say this but I'm going to say it again – this programme is the best one yet!
Bloody Scotland 2017 takes place in Stirling on 8-10th September 2017 and I recommend that you don't bloody miss it!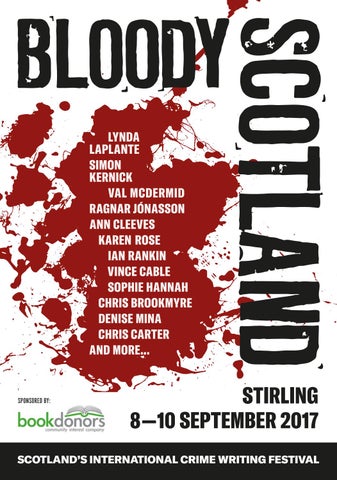 To check out the Bloody Scotland 2017 brochure and book your tickets, please click on the link below:
Bloody Scotland 2017: What's on & Tickets
To find out more about the Aye Write festival which takes place in Glasgow each March then click on the link below:
For more information about the Winter Words Festival, Pitlochry which takes place in February each year in the Pitlochry Festival Theatre,  click on the link below:
Winter Words Festival, Pitlochry
To find out more about Bob's Photography then you can check out his website on