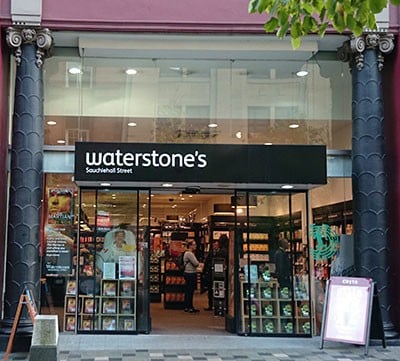 What a start to the #BloodyScotland weekend tonight was! As a long standing fan of Owen Mullen's Charlie Cameron series, I was delighted for him when he signed with Bloodhound Books earlier this year. Then I was absolutely ecstatic for him when "Games People Play" was longlisted for the prestigious McIlvanney Prize at this year's Bloody Scotland so can you imagine how honoured I was when Owen asked me to help him by facilitating the launch the book in Glasgow on the eve of Bloody Scotland! Words cannot describe it! Nor the nerves that went alongside it!
It's strange doing a blog post for this event, I usually do them as a member of the audience and talk about the questions and answers.
It was great to see such a huge turnout for Owen, especially on such a dreich and cold Glasgow night! And especially nice to see so many friendly faces from the book world all there to give Owen their support! The event began with a short reading before we dived right into the Q&A; he the audience in stitches with his tales and by the end of the night they were eating out of his palm! Just ask him about his preparation tips! I only wish we could have gone on for longer as I think there were so many more questions out there to be asked!
Massive thanks to James, Frankie and the team at Waterstones, Sauchiehall Street, for making sure the event ran like clockwork, well apart from us almost running over time! I think Owen can talk more than me! Love the new event space as well, it is gorgeous!
I am not going to lie, when I say it has been an absolute privilege and honour not only to be involved in tonight's event but also to have met both Owen and his wife Christine. They are one of the loveliest and most down to earth couples I have ever met and they truly deserve this success and many more years of it!