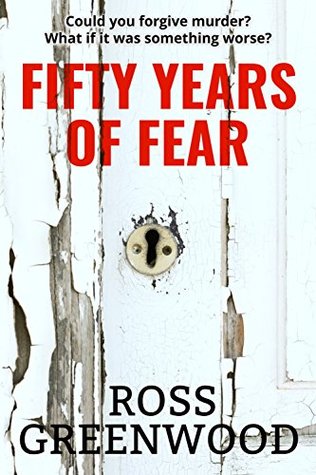 I am delighted to be taking part in the #BlogTour for #FiftyYearsOfFear from Ross Greenwood. Huge thanks to Caroline from Bitsaboutbooks and Ross for inviting me on the tour and providing an ARC in return for my review.
What the blurb says:
Could you forgive murder? What if it was something worse? 
A childhood accident robs Vincent of his memories, causing him to become sensitive and anxious around others. His differences attract bullies, and he comes to rely heavily on the support of his family. 
After the devastating loss of his parents, a remarkable woman teaches him to embrace life and, little by little, he realises the world is far more forgiving than he imagined. When fragments of his memory return, he begins to unravel his past. 
Who was his mother? What kind of a man is his brother, Frank? And why does death surround them? 
Fate is cruel. History is dark. Things are not as they seem. 
Perhaps he should have stayed at home. 
My thoughts:
When I started reading this book, I really wasn't sure where it was going but it ended up taking me on an atmospheric journey down a rabbit hole full of twists and turns. It's crime fiction because of the crimes contained within the story but the narrative is so candidly and powerfully written that as a reader I became immersed in the lives of the characters to the point where the plot almost became secondary to my enjoyment.
We follow the life of Vinnie in a series of chapters outlining each stage and age of his life. His anxiety is palpable as the story develops and his life is clearly not going to be a happy one.
I couldn't help but be moved by Vinnie's story, despite the fact that there were elements of his character hinted at that made me wary of him. He appears to be a reliable narrator but the subtle hints of something very dark within pushed my trust to its boundaries at times. From empathy to distaste my feelings bounced back and forth as his relationships with those closest to him were slowly unpicked.
His brother Frank dips in and out of Vinnie's life and each time uncovers a little more of the mystery that is his background. It was difficult for me to work out my feelings about Frank, was he the cause of Vinnie's troubles or would he provide a solution.
Vinnie does find love and he marries Clara but events in their lives set them both on a path of self-destruction that surely can have no happy ending.
Ross Greenwood has delivered a cast of complex characters who will test your thinking and your judgement. It is an intensely dark read and little comfort is given to the reader on their journey. If you are looking for an uplifting and upbeat tale of wrongs being put right then this may not be the book for you, but if you are looking for an intense and cleverly crafted novel which explores the darkness that lies within and the long lasting devastating impact of forgotten childhood memories then look no further.
About the author:
I was born in 1973 in Peterborough and lived there until I was 20, attending The King's School in the city. I then began a rather nomadic existence, living and working all over the country and various parts of the world.
I found myself returning to Peterborough many times over the years, usually when things had gone wrong. It was on one of these occasions that I met my partner about 100 metres from my back door whilst walking a dog. Two children swiftly followed. I'm still a little stunned by the pace of it now.
Lazy Blood book was started a long time ago but parenthood and then four years as a prison officer got in the way. Ironically it was the four a.m. feed which gave me the opportunity to finish the book as unable to get back to sleep I completed it in the early morning hours.
My second book, The Boy Inside, was picked up by Bloodhound Books, and now, Fifty Years of Fear, is out now. All my books are thought provoking and told with a sense of humour.
I hope you enjoy reading them.
Please feel free to get in touch.
http://www.rossgreenwoodauthor.com
Fifty Years of Fear is available to purchase via Amazon: