Book Week Scotland 2017 is taking place from Monday 27 November – Sunday 3 December. This year's theme is Nourish and to celebrate our book week I've asked some of my favourite Scottish authors to provide me with a recipe that they feel is the perfect accompaniment to either their own book or a book of their choice.
Book Week Scotland is a week-long celebration of books and reading that takes place every November.
During Book Week, people of all ages and walks of life will come together in libraries, schools, community venues and workplaces to share and enjoy books and reading. They will be joined in this celebration by Scotland's authors, poets, playwrights, storytellers and illustrators to bring a packed programme of events and projects to life.
You can follow Bookweek Scotland on Twitter and like them on Facebook to keep up to date with what's happening in your area.
Book Week Scotland is brought to you by The Scottish Book Trust
Today I'm joined by Allan Watson and Graham Smith
Allan Watson
Allan Watson has written a number of books and his latest novel, Heart Swarm, sees him move into the crime fiction genre. If you have met Allan before then you will know that he is not the most conventional writer you will ever meet! At the recent launch for Heart Swarm Alan held a raffle which saw prizes such as Barbara Cartland autobiography, a Bay City Rollers single, a pair of coconuts and a Barbie doll with pins in its face! I kid you not! But don't let this put you off, Allan is one of the most genuine and funny guys I've met and his latest novel Heart Swarm is a deliciously disturbing read!
You can check out my review of Heart Swarm here
You can follow Allan on Twitter at @allanwatson12
Heart Swarm is available to purchase on
When I asked Allan for a recipe that went along with his book, I didn't expect anything normal in return and I was not disappointed! If you are feeling brave enough then perhaps you may want to cook up a pot of Allan's unique Heart Swarm Hot Pot:
Heart Swarm Hot Pot.
One tender side of beef (regularly thawed and pawed over a 5 year period). Beef should be hung overnight for extra gamey flavour. Marinate beef in a rich gravy of seasonal capers and Brackenbrae nuts. Simmer gently for half a dozen chapters then turn up the heat until the dish is dark and distasteful. Garnish with green Christmas tinsel. Best served cold.
or maybe you might want to try something a little more traditional!
Beef Hotpot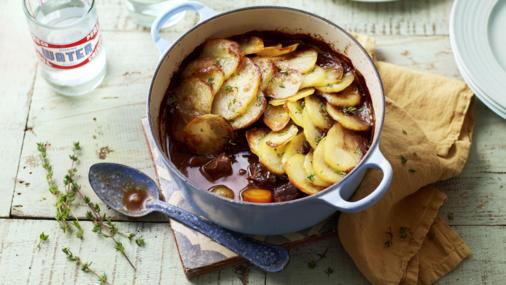 Preheat the oven to 170C/325F/Gas 3.

Season the meat with salt and freshly ground black pepper.

Heat a large casserole dish until very hot then add the oil and a small knob of butter. Fry the beef until browned all over, then remove from the pan and set aside. (You may need to do this in batches.)

Add the onions and another knob of butter to the pan and fry for 2-3 minutes, or until lightly browned. Add the carrots and cook for a further minute.

Stir in the flour then gradually add the red wine, stirring until smooth. Add the browned beef and the stock, season with salt and freshly ground black pepper and bring to the boil. Stir in the fresh thyme, then arrange the potatoes on top. Dot the surface with the remaining butter.

Cover with a lid and cook in the oven for one hour.

Remove the lid and increase the heat to 200C/400F/Gas 6 for 30 minutes.
Graham Smith
Graham Smith is the bestselling author of two explosive crime thrillers in the Jake Boulder series, Watching the Bodies and The Kindred Killers. Watching the Bodies spent over two weeks at number one in the Amazon UK chart and Amazon CA charts. Graham is also the author of the popular DI Harry Evans series and has collections of short stories and novellas.
I'm definitely a Harry Evans kinda gal but when Graham #UnleashedTheBoulder earlier this year then my #CharacterCrush went up a notch or two!
Graham's latest book, The Kindred Killers, is second in the Jake Boulder series and this is a best selling series for a reason! It is explosive, it rocks and Jake Boulder is a man on a mission that you don't want to miss!
You can check my review of Kindred Killers here
Kindred Killers, along with Graham's other books are available to purchase from:
You can catch up with Graham over on Twitter at @GrahamSmith1972 and on his website.  He's also on Facebook
Graham told me that Jake Boulder's tastes are plain and simple; this is a man who doesn't like to adorn his food with fancy garnishes. This is a man who likes his meat with something hot on the side! Jake would have a burger made from Aberdeen Angus beef. Just a plain burger (Once the milk has left the cow, they should never come into contact again in any form.) with chilli fries!
Aberdeen Angus burgers:
Ingredients
400g Aberdeen Angus Steak Mince
2 large spring onions, trimmed & chopped
1tsp wholegrain mustard
Fine sea salt
Freshly-ground black pepper
Method
Mix all the ingredients together without over-working the meat, shape into burgers.
If you have time, do this in advance, then wrap in clingfilm and leave in the fridge for a couple of hours.
Cook on the BBQ, under the grill or in a frying pan.
Chilli Fries
Ingredients 
Serves: 4 4 large maris piper potatoes, peeled and cut into 5mm thick fries
4 tablespoons vegetable oil
4 tablespoons V8 vegetable juice
1 tablespoon chilli powder
1 teaspoon ground cumin
2 teaspoons dried onion powder
1 teaspoon garlic granules
1 teaspoon cayenne pepper
1 teaspoon caster sugar
1 tablespoon salt
Method
Prep:10min  ›  Cook:40min  ›  Ready in:50min Preheat an oven to 190 C / Gas 5. Grease a large baking tray.
Fill a large bowl with cold water, add the potatoes and allow to soak for 10 minutes.
Whisk together the oil, vegetable juice, chilli powder, ground cumin, onion powder, garlic granules, cayenne pepper, sugar and salt in a large bowl. Drain the potatoes and pat dry with kitchen towels. Toss the potatoes with the oil and spice mixture; stir until evenly coated. Arrange fries in a single layer on the prepared baking tray.
Bake fries in preheated oven for 20 minutes. Turn and continue to bake until browned and crispy, about 20 additional minutes.
Thank you, both for joining me today, any chance of you both coming over and cooking for me for a week! Allan, I'd prefer my food a little more traditional though 😉