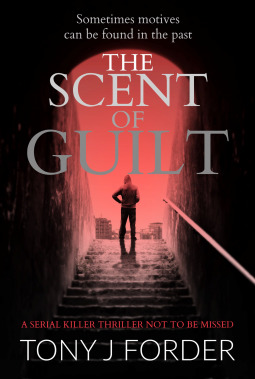 I'm delighted to be sharing my thoughts on this bloody brilliant read as part of the #BlogBitz but I just want to know how the hell did I miss out on the first one in this series! Thanks to Sarah over at Bloodhound for the invite onto the tour and to the publishers and authors for the review copy. (I've just gone and bought the first in the series to get myself up to speed before book number three comes out, talk about doing things the wrong way round lol!)
Anyway, before I share my thoughts, here's what the blurb says:
Twelve years after he left Peterborough under a cloud, DI Bliss returns to the city and the major crimes team. Having spent years policing organised crime, Bliss is plunged straight into the heart of a serial murder investigation.
Meanwhile, Penny Chandler has been promoted to DS and has been working in London on the Met's sexual crimes team. But when two rapes are reported on her old patch in Peterborough, Chandler volunteers to interview the victims.
Chandler joins the hunt for the attacker and soon notices a possible link between the rapes and Bliss's murder investigation. Could the same man be responsible?
Just as both cases seem to stall, a call comes in from an ex-policeman who knows of unsolved cases in the USA with a similar MO. Bliss finds himself travelling to California to hunt for a killer whose reach may have stretched further than anyone could possibly imagine.
But in order to catch the murderer, Bliss must discover the killer's motive. A motive which should have remained buried in the past…
My thoughts:
Well #BOOM here is a kick ass introduction for me to a new series to get my teeth into! I hadn't read the first in the series and it didn't spoil my enjoyment of the book at all, it worked well as a standalone.
DI Bliss has returned to Peterborough and it is clear that he has a bit of a reputation. There are several hints that perhaps he's not always been the most popular in the force but he is determined to prove he has changed. He's just in the door when he is handed an extremely high-profile case and despite senior management support it would appear that DCI Edwards, in reality is not really that supportive after all! You can feel the tension between these two seep out the pages but just what has DCI Edwards got against him other than the fact that he's been given the case that she wants to head up? Is there more underlying her dislike of Bliss?
Bliss's partner, Penny Chandler, had been promoted to DS where she was working in the Met but she arrives back in Peterborough to investigate links between rape cases she has been working on. Now, there is obviously some background with these two. Bliss is delighted to have his sidekick back working alongside him; he has a huge emotional reliance on her. I connected with Bliss immediately, I really liked him, I like that he is flawed and has an over reliance on Chandler – she's like an emotional crutch to him.  I liked his  approach to life, there is a toughness which seems very much at odds with his self-care approach to his health problems. He is definitely a man who is not afraid to connect with his emotional side and there is something very endearing about this man! Hell, more than endearing, I think I have a major #CharacterCrush going on here! He has issues with authority, which can be problematic when you are in the police I guess, but I loved his attitude, this man sure knows the right battles to pick and he's not afraid to raise his head above the parapet when required!
What a duo the author has created with Bliss and Chandler, even the pairing of the names sounds just right, these two go together like gin and tonic , they are meant to be; there is a connection that sends sparks flying out the book here but time will tell if there is ever going to be anything more than this between them.
Tony Forder has created not only a dynamite duo but the storyline was fast paced, energetic and intelligent, taking us from Peterborough to California as a potential connection is established between the crimes happening in the UK and historical cases in the USA.
Ok so it might little far-fetched that UK forces would have a budget to send him over to US on what appears to be very shaky evidence, but hey it's fiction, right? So get that belief and suspend it  a little and just sit back and enjoy the ride! And when I say enjoy it, I mean sit back and really enjoy it because this is clever stuff going on here! Again, the author shows a clear skill in the development of relationships between characters. Robbie Newman, the American Cop assigned to Bliss when he arrives in America, throws him a few surprises but I really got a sense of a genuine partnership and gelling between the two characters from the outset. I'd like to see this relationship developed as the series goes on.
The author has tackled two very sensitive subjects in this novel, murder and rape. He has approached these topics with a sensitivity for which he is to be commended. It can be too easy to sensationalize in crime fiction but Tony Forder has demonstrated a more person centred and humane approach to policing when investigating crimes which throw up some chilling background stories. We do get to hear the voice of the perpetrator(s) throughout the book and they are creepy as hell and Bliss does well to contain himself and some of those anger issues throughout the investigation.
The Scent of Guilt is a clever and twisted novel that will have you reading well past your bedtime and if it is the first in the series you have read, it will have you jumping over to Amazon to buy the first and heading over to Twitter to nag the author to get the next written. It had my breath caught, my brain hooked and my senses in overdrive; twists and turns will keep you hooked til the very last page. Read it!
Check out what the other bloggers are saying:
The Scent of Guilt is available to purchase from:
About the author:
Tony J Forder is the author of the critically acclaimed crime thriller Bad to the Bone, the first in a series featuring DI Jimmy Bliss and DC Penny Chandler. The sequel, The Scent of Guilt, is available from 17 February 2018. A third book in the series is currently in progress.
Tony's dark, psychological crime thriller, Degrees of Darkness, featuring ex-detective Frank Rogers, was also published by Bloodhound Books. This was intended to be a stand-alone novel, but Tony is now considering the possibility of a follow-up.
One book that will definitely see a sequel is Scream Blue Murder. This was published in November 2017, and received praise from many, including fellow authors Mason Cross and Matt Hilton.
Tony lives with his wife in Peterborough, UK.