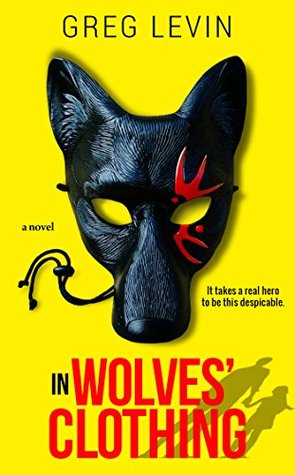 Every now and again, as a Blogger, I am thrown a curveball by an author I had never heard of before and every now and again I like to take a chance and choose a wild card to read. Sometimes it works and sometimes it doesn't and this time it worked, hell yeah, it worked! So thank you to Greg Levin for that initial email, yep it was a great email, entirely personal and not mass-produced and entirely weird and intriguing! The result is my review for what is one of the most haunting, chilling, sad, heartrending and bizarrely witty, at the same time, books that I have had the pleasure to pick up and read!
Before I share my thoughts, here's what the official blurb says:
On his best days, Zero Slade is the worst man you can imagine. He has to be. It's the only way to save the Lost Girls.
During his seven years on a team fighting child sex trafficking, Zero's become quite good at schmoozing with pimps, getting handcuffed by cops and pretending not to care about the Lost Girls he liberates. But the dangerous sting operations are starting to take their toll on his marriage and sanity. His affinity for prescription painkillers isn't exactly helping matters.
When the youngest girl the team has ever rescued gets abducted from a safe house in Cambodia, Zero decides to risk everything to find her. His only shot is to go rogue, and sink deeper into the bowels of the trafficking world than he's ever sunk.
It's the biggest mission of his life. Trouble is, it is almost certain death.
My thoughts:
Well, it is no lie to say that "In Wolves' Clothing" is not a read for the faint hearted nor is it a read for those who don't want to face the truths of the horrors that go on in our world. It is however, a read, for those who want to experience a gut wrenching disgust at the atrocities that others are prepared to commit and the admiration for those who risk their lives to save the victims. Although the subject matter is extremely dark, there is no gratuitous titillation in the novel.
While, it clearly is a work of fiction "In Wolves' Clothing" is sadly based on a reality, the reality that is human trafficking and more specifically child sex trafficking. It features Zero Slade one of the Operation Emancipation team whose remit is to travel the world posing as sex tourists in a bid to free the Lost Girls, children as young as five years old who have been sold into the industry. It is a harrowing tale of the undercover team from Mexico to Cambodia as the author takes the reader, an unwitting tourist, on the tour of the top attractions for paedophiles and none of it is pretty viewing.
Narrated from the point of view of Zero, it really does provide an authentic picture of what it must be like for those who carry out these operations. Zero's commentary of the airport delays where passengers are acting like the world has ended;  the running commentary in his head where he wants to grab the microphone and silence them all with the grim realities he faces everyday in an attempt to make them have some perspective over what exactly they are getting worked up about certainly made me, as a reader, stop and think.
Despite the horrific nature of the plot, the author has managed to inject some wit and dry humour through the narrative of Zero, with his self-depreciation and his black humour that surely sees him through the worst of what life has to throw at him. To pen a novel so dark, yet add humour that doesn't take away from the horror, is surely a skill in itself and the author got this just right!  It allows the reader a breather, a lighter moment amongst the darkness uncovered.
Operation Emancipation features The Jump Team, a team of ex services personnel tasked with freeing young children from human trafficking. Each of them have left their previous jobs under some form of cloud and each of them are damaged in their own way which makes them entirely perfect for the job. It really made me think about how they turned off when not working, how much that job could screw with your mind as there is no way that it is a role that you can leave at the office door come 5pm!
Each of the team brought their own skills, experiences and baggage to the role but special mention needs to go to the new recruit, Caleb. The author played a blinder in creating this character, right from the beginning when Zero is introduced to him; his disbelief in what he sees in Caleb to where Caleb's personal baggage is revealed, he is a character that I certainly hope Greg Levin brings back to the table in future books (there is going to be a follow-up to this, right?! There NEEDS to be a follow-up to this!)
Being a member of Operation Emancipation also takes its toll on relationships and we see the effect on Zero's marriage to Neda in a rollercoaster of emotional ups and downs throughout the book. To be fair it would take a strong partner able to deal with the trauma that the job exposes the team to and add into the mix an opiate addiction and there was certainly no easy romantic journey for those two. When Zero goes rogue, it remains to be seen if the marriage can ever survive his need to always be out there in the field and indeed whether or not Zero will make it through alive.
"In Wolves Clothing" pulls no punches, it is raw, it's current and sadly it's real. It was an authentic, if harrowing, read that evoked a million emotions in me as I devoured it in one sitting! It left me sad and angry at the world we live in yet thankful for those who commit to making a difference. Engrossing, compelling, engaging never gratuitous, it highlights the reality, the statistics and the experiences of both survivors and rescuers. I firmly believe that fiction does have a place in highlighting the atrocities that happen in the world; it has a place in kickstarting conversations that need to take place and "In Wolves' Clothing" certainly does all three! It certainly made an impact on me and left me wanting more from this author. Would I recommend it? I think you can tell from my review that would be a YES!
"In  Wolves Clothing" is available to purchase from: