I have been absolutely buzzing to read this book and was delighted to receive an ARC via Netgalley! Mike Craven is an author whose name should be on everybody's lips! He seriously is one of the best writers out there! Here is my happy publication day review!
Before I share my thoughts, here's what the official blurb says:
'Dark, sharp and compelling' Peter James
'A thrilling curtain raiser for what looks set to be a great new series' Mick Herron
Welcome to the Puppet Show . . .
A serial killer is burning people alive in the Lake District's prehistoric stone circles. He leaves no clues and the police are helpless.
When his name is found carved into the charred remains of the third victim, disgraced detective Washington Poe is brought back from suspension and into an investigation he wants no part of.
Reluctantly partnered with the brilliant, but socially awkward, civilian analyst, Tilly Bradshaw, the mismatched pair uncover a trail that only he is meant to see. The elusive killer has a plan and for some reason Poe is part of it.
As the body count rises, Poe discovers he has far more invested in the case than he could have possibly imagined. And in a shocking finale that will shatter everything he's ever believed about himself, Poe will learn that there are things far worse than being burned alive …
'A powerful thriller from an explosive new talent. Tightly plotted, and not for the faint hearted!' 
David Mark
'Satisfyingly twisty and clever and the flashes of humour work well to offer the reader respite from the thrill of the read.' Michael J. Malone
'Nothing you've ever read will prepare you for the utterly unique Washington Poe' Keith Nixon
My thoughts:
There is so much I want to say about "The Puppet Show" but I can't as I do not want to give anything away! Let's just say that burnt bodies are not the only horror that Washington Poe uncovers in his investigations! Twisted and dark, this novel will throw you off your guard over and over again. Just when you think you have sussed it all out Mike Craven takes your head and messes it up just a little bit more!
The Puppet Show introduces Mike Craven's latest character, Detective Washington Poe, a name that you will never forget! Washington is called back to duty for what will turn out to be one of the darkest cases he will investigate and this one is personal. Uh oh, I've found myself a new #CharacterCrush here! He is everything you want from a fictional detective, flawed but determined and not scared to throw the rule books out of the window when needed. However, when he teams up with Tilly Bradshaw, Civilian analyst, then that's when you know Washington Poe is the one man who you most definitely want on your side! And Tilly, well she melted my heart so she did! Through her character we see some of the worst elements of human nature through the actions of others and she evoked such strong feelings in me. I do hope that she features in future books with Poe! This one had me experience all the emotions, I laughed, cried and raged as the story unfolded. By the end I was a damn mess I can tell you!
If you haven't read any of Mike Craven's books then you are seriously missing out; this author has a raw talent and pens some of the most thought-provoking writing in crime fiction. Effortlessly combining character and plot, it is impossible not to engage with his characters or not to lose yourself in the storyline. It provides a fascinating insight into the skills and resources utilised in modern-day policing but does so without reading like a police manual. It is terrifyingly realistic and unbelievable at the same time, The Puppet Show, set against the atmospheric Cumbrian landscape will have you engrossed from beginning to end. It will keep you up way past your bedtime and leave you torn between reading it fast to finish it and slowing right down to savour every moment. It's dark and it's chilling, this is definitely one show you DO NOT want to miss!
The Puppet Show is available to purchase from:
About Mike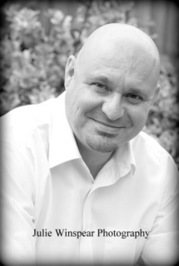 M. W. Craven was born in Carlisle but grew up in Newcastle, running away to join the army at the tender age of sixteen. He spent the next ten years travelling the world having fun, leaving in 1995 to complete a degree in social work with specialisms in criminology and substance misuse. Thirty-one years after leaving Cumbria, he returned to take up a probation officer position in Whitehaven, eventually working his way up to chief officer grade. Sixteen years later he took the plunge, accepted redundancy and became a full-time author. He now has entirely different motivations for trying to get inside the minds of criminals . . .
M. W. Craven is married and lives in Carlisle with his wife, Joanne. When he isn't out with his springer spaniel, or talking nonsense in the pub, he can usually be found at punk gigs and writing festivals up and down the country.