As part of the #BlogBlitz for Death in the Woods by Bernie Steadman it gives me great pleasure to bring you a guest post from the author! Thanks to the author and Sarah over at Bloodhound Books for the invite to take part.
Before I share my content here is what the official blurb says:
Meet Detective Inspector Dan Hellier, a man who needs to redeem his career and catch a killer. 
Soon after DI Hellier returns home to Exeter under a cloud, the body of a talented young singer is found in the woods.
When her death reveals links to the boss of a recording studio, a predatory gang and a school music teacher, Hellier knows he has his work cut out.
Before any more innocent people are put in danger, Hellier will need to untangle the web of lies and work out which of many suspects are guilty of murder. But can he solve the case in time?
*** Death in the Woods was previously published as Death and Deception by B.A. Steadman***
Guest Post
Just give it a bit more time….
At talks, people often ask me, "Where do your ideas come from?" and it's a question I had to think about, because I had no idea and didn't want to sound like a total idiot when asked the question.
Betty Edwards, a much-respected teacher of drawing and painting in the USA published a book in the 1970's which was considered revolutionary at the time. She put forward an old argument that the left side of the brain is more verbal and analytic, whereas the right side of the brain is more visual and perceptual. She has since taught thousands of non- drawers to draw using simple techniques which distract the left-side of the brain critic and allow the creative right side to emerge into a receptive space. It was inspiring then, when I was trying to learn to draw, and it is now when I look for inspiration to write.
I think we writers use similar techniques when we sit down to write and the ideas flow, although we wouldn't label it as anything to do with brain halves! We lose track of time, the connections seem effortless and the words sit right that's when we are accessing the creative sides of our brains. That's where the good ideas come from.
The switch over from; "I'm hopeless, useless and should just stop. Oh, look at that pile of washing. The cat's thrown up again, I must clear it up…", to "I'm writing" is a subtle one, though, and it has a great deal to do with time. Of course, we need both sides of our brains to function well as humans, but the left side is full of excuses, of deadlines, of reasons why we might as well watch TV or have another glass of wine or do the washing, rather than get the pen out and alter that balance of power. The right side of the brain doesn't listen to time, or hear self-criticism, it just does things. Writing, for example, painting, embroidery, sculpture. But it needs time to come though and be heard over the interminable internal chatter.
So, how do we get to the state where we can write? For me, silence feeds the creative brain. For you, it may be music playing in the background, or the chatter of Radio 4. It doesn't matter. The decision to spend our precious time writing, rather than doing anything else, is what makes the difference.
If we really want to write (and I do, I really do) then we have to make that time and keep it for ourselves. We have to shut the door on the family and the jobs, turn off the radio and give ourselves time for something to come through. Walking on your own is also a good way, to kickstart ideas, letting your imagination roam under the big sky. Then going home and committing what you have in your head to paper. That's a note to self.
Ref: Edwards, Betty. The New Drawing on The Right Side of the Brain. Penguin Putnam. ISBN 0-87477-424-1.
Now, this has got my brain ticking over! 
Death in the Woods is available to purchase from:
Check out what the other bloggers have been saying:
About the author: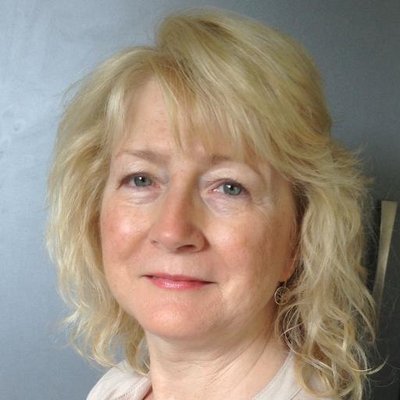 Bernie taught English for many years but only dabbled in short fiction and poetry until a few years ago when she took to writing full-time.  She completed her debut novel, Death in the Woods when she escaped the classroom and could finally stop marking essays. This was the first in the West Country Mysteries series featuring DI Dan Hellier and his Exeter-based team. There are now three in the series, Death on Dartmoor and Death on the Coast completing the series.
Bernie lives in a small village in East Devon and her novels are set in and around the ancient Roman city of Exeter, which has seen its fair share of murder and mayhem over the centuries. The books explore the beauty of the area, but demonstrate that even in the most charming of settings, terrible events may occur.
When not glued to the laptop, Bernie is a keen yoga fan and enjoys walking and cycling in the Devon countryside with her husband. They share their home with two large, black cats which came from the animal sanctuary where she is a volunteer and trustee.
Links:
@BernieSteadman