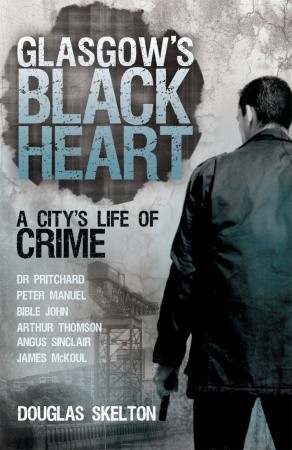 Another wee indulgent read for me from my own TBR Pile, I bought Glasgow's Black Heart earlier this year and today I settled down to enjoy an afternoon of factual crime from my hometown of Glasgow!
Before I share my thoughts, here's what the official Blurb says:
Glasgow is the largest city in Scotland. It is a city of culture, of impressive architecture, enterprise and endeavour, and is one of warm-hearted, generous people. But it also has a dark side.
Beneath the busy streets, the Victorian sandstone and urban trendiness lies a black heart that beats in rhythm with the roar of the traffic and the echo of footsteps on concrete. It is a black heart pumped by greed and lust, violence and murder. And it has beaten since the city first sprang up on that dear, green place on the banks of the Molendinar Burn. This is the epic story of Glasgow crime.
Beginning in 1624 when the Tolbooth was built at Glasgow Cross to house the courts and town jail, author Douglas Skelton covers four centuries of Glasgow's hidden history, tracing the formation of the first paid police force in Britain, the Black Assizes of the circuit court and the formation of the city's own High Court of Justiciary.
Here you will find the pimps and pushers, gangsters and gangleaders, rioters and robbers who flooded the veins of the city. Famous felons rub shoulders with their less notorious, but equally vicious, counterparts. Here also are the thief-takers, cops, lawyers and judges who tried to stem the gushing flow, some with more success than others.
These stories may not be what the City Fathers would like to see on Glasgow's CV, but they are as much a part of its traditions and its legacy as the fish, the bell and the tree.
My thoughts:
Weirdo that I am, decided to read this as a little palette cleanser after a rush of dark psychological thrillers! Yeah so let's cleanse myself in the dark and gruesome world of Glasgow's history of crime, 'coz that's cozy crime isn't it…
Douglas Skelton is one of my favourite Scottish Crime Fiction writers, he's definitely one that more people need to be shouting about and reading his books that's for sure! As well as being an incredibly talented fiction writer, Douglas is also a former journalist and author of a number of non-fiction works.
Glasgow's Black Heart is a journey into some of Glasgow's deeds of the past. It offers a fascinating social, political and criminal history of the Dear Green Place from the very first recorded bank robbery in 1811 right up to recently and the murder of Moira Jones this is must read for all those who have an interest and love of Scottish Noir. This is the real McCoy folks!
Fascinating Fact: Did you know that Glasgow pioneered the "Booze Cruises"? In 1853 Sunday drinking was made illegal in Glasgow but this law did not extend to the Clyde Steamboats – giving rise to the expression "Steamin Drunk"
Despite being set in the past and some chapters WELL before my time(!) Douglas manages to create that sense of place for the reader and it was such a delight as always to find myself transported to streets and landmarks I am familiar with, albeit in a very different time frame.
Fascinating Fact: In 1831 Glasgow was said to have 2850 pubs and around 1500 Brothels
Glasgow's Black Heart covers some of the well-known crimes as well as the not so well known; from Bible John to Madeleine Smith and from John and Catherine Stuart two of Scotland's most prolific serial killers in the 1800s to Glasgow's very own Godfather, Arthur Thomson. This book is a mine of information. It talks about the Industrial Revolution, the rise of the Trade Union movement to slum housing and the construction of high-rise tenement blocks and new schemes, gang culture through the ages and how they all impact on crime within the City. A real treasure trove of facts and figures and enough bloodshed and violence to keep the most bloodthirsty of us happy!
Fascinating Fact: In 1891 the first Police Boxes were erected in Glasgow, now they are famous for selling CBD Oil and Smoothies!
For more tales of Glasgow's gruesome past and lots of other fascinating facts grab yourself a copy of Glasgow's Dark Heart and settle yourself down for a cracking read!
Available to buy from: