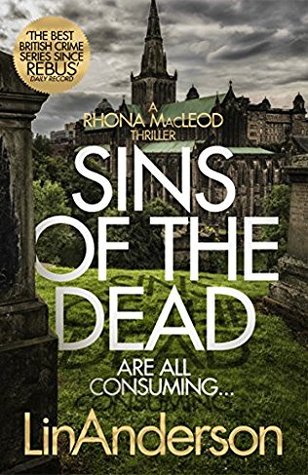 As a #Superfan of Lin Anderson I was delighted to receive an ARC of her latest in the Dr. Rhona MacLeod series, "Sins of the Dead" from Pan MacMillan. It is the 13th in the series and can be read as a standalone but why deny yourself the pleasure of finding a treasure trove of a whole series to catch up with and believe me this one is worth it!
Before I share my thoughts, here's what the official blurb says:
While illegally street racing in the underground tunnels of Glasgow, four Harley-Davidson riders make a horrifying discovery: a dead man left in the darkness, hands together on his chest as if peacefully laid to rest. The cause of death is unclear, the only clues being a half glass of red wine and a partially eaten chunk of bread by his side that echo the ancient religious practice of sin-eating.
Called to the scene, forensic scientist Rhona MacLeod is perplexed by the lack of evidence. But when another body is found near her own flat, laid out in a similar manner, she fears a forensically aware killer stalks the city and is marking the victims with their unique signature. Even more worryingly, the killer appears to be using skills they may have learned while attending her forensic science lectures at Glasgow University.
There are signs that Rhona is being targeted, that the killer is playing with her and the police, drawing them into a deadly race against time, before the sin-eater's next victim is chosen . . .
Sins of the Dead is the thrilling thirteenth book in Lin Anderson's Rhona MacLeod series.
My thoughts:
A spine-tingling prologue once again demonstrates why Lin Anderson is not only Queen of Scottish Noir but also the queen of the #Killerhook openings. Immediately drawn into the story,  I wanted to know who the man plagued by sleep paralysis was;  whose nightmares are just about to come true and who is the strange student sitting in on Rhona MacLeod's Forensic classes…The inclusion of sleep paralysis was of particular interest to me as I have lived with this condition for over 20 years and this is the first time I've seen it mentioned in a book.
Sins of the Dead kicks off in the underground tunnels of Glasgow, some of the favourite haunts of Urbexers everywhere and something that fascinates me about my hometown, that hidden Glasgow existing underneath our feet every day! A body has been discovered by Harley Davidson riders illegally racing in the underground tunnel. Rhona MacLeod and DS McNab both turn up to the scene of crime with an underlying tension between them obvious to all.
This time around it looks like someone has got Rhona in their sights. This time the murders seem personal. A host of suspects neatly lined up but impossible to guess. Drip fed clues throughout it really does feel like being part of the investigation. I've said this before about this series and I'll say it again – I've come to "know" Rhona MacLeod, I've followed her through this series and watch her character develop and grow and it's hard not to think of her as real and I find myself  completely caught up in her life and her work. Beginnings and endings feature highly in this novel as relationships are scrutinised and considered and a few poignant moments brought a lump to my throat throughout my read.
I'm not going to lie, I'm delighted to have Rhona back home in Glasgow, I've loved her trips to the islands but was delighted to have her back in my hometown and that gritty Glaswegian underbelly that provides a deliciously dark setting for Scottish crime fiction. The sense of place is spot on as usual and with Lin Anderson's books whether you are in the wilds of Orkney or the mean streets of Glasgow as soon as you start reading her books you're transported to that location. Familiar spots and haunts of my hometown welcomed me into the pages like an old friend.  Authentic dialogue meant that I was truly engrossed in the book to the point that I almost felt as though I was part of the story.  And the short sharp chapters meant that I definitely read way past my bedtime! Taking place in Glasgow with a distinct focus on the hidden parts of the city underground at times I felt claustrophobic, I found myself struggling to breathe and I'm not sure if I was imagining myself being trapped underground or indeed just so tense with the breathtaking intensity of the book.
Rhona and DS Michael McNab are two of my favourite characters in Scottish crime fiction: Rhona, I admire for her tenacity and her respect for the dead; McNab for his straight to the point methods, his conflicted personality and ok then, hell I'll admit it, I have a major #charactercrush on him! Also featuring is Orcadian Forensic Psychologist Marcus Pirie and Rhona's on/off love interest, Sean McGuire. The complexity and intensity of the relationships between these four characters is a winning combination and added to the mix this time around is McNab's latest love interest, biker chick, Ellie, means that the dynamics will absorb you.
Meticulously plotted and researched perfectly paced with short sharp chapters have you doing that "just one more" before bed and before you know it daylight is breaking! Lin Anderson provides an outstanding and compelling reading experience. Easy to read but impossible to forget, this is one series that I'd urge everyone to read.
Sins of the Dead is available to purchase from:
About Lin Anderson
Lin Anderson has published several novels and one novella featuring forensic expert Dr Rhona MacLeod, which have been widely translated. Her short story Dead Close was chosen for the Best of British Crime 2011 and is currently in development as a feature film. Also a screenwriter, her film River Child won a student BAFTA and the Celtic Film Festival best fiction award. Currently Chair of the Society of Authors in Scotland, she is also co-founder of Bloody Scotland, Scotland's International Crime Writing Festival.