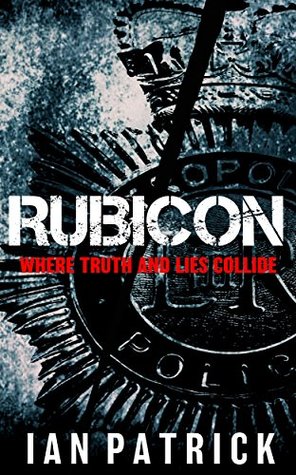 I've had Rubicon sitting on my TBR pile for a while now and I'm delighted to be finally sharing my review of Ian Patrick's debut novel.
Before I share my thoughts, here's what the official blurb says:
Two cops, both on different sides of the law – both with the same gangland boss in their sights. 
Sam Batford is a corrupt undercover officer with the Metropolitan Police who will stop at nothing to get his hands on fearsome crime-lord Vincenzo Guardino's drug supply. 
DCI Klara Winter runs a team on the National Crime Agency, she's also chasing down Guardino, but unlike Sam Batford she's determined to bring the gangster to justice and get his drugs off the streets. 
Set in a time of austerity and police cuts where opportunities for corruption are rife, Rubicon is a tense, dark thriller that is definitely not for the faint hearted. 
My thoughts:
A sharp opening provides that tense temptation of the killer hook needed to draw me in! The hunter is hunting and the prey is about to get annihilated and bang we are in! Immediately I want to know who this narrator is and what their motivation is! And I have to say what a brilliant opening and introduction to a character!
Sam Batford is probably the most corrupt policeman I have ever met in my literary tour of policing across the UK. This guy will stop at nothing to achieve his outcome and I mean nothing! At the opposite end of the spectrum is Klara Winter; like Batford, she too is on a mission, however, her methods are not quite as unorthodox as his. The two characters do not meet often in the novel but when they do you can see the sparks fly! I loved that the narrative of Winter was provided through her "Sensitive Decision Log" which lays bare how she really feels about Batford! It is clear that she is not his biggest fan and that she didn't want him on board at all. This all makes for a fantastically twisted read!
Rubicon mainly focuses on Batford and his almost multiple personalities as he treads a very fine line between being on the side of the law and that of the lawless. He had my head in a spin as I tried to keep up with whose game he was playing! He was a refreshingly different character and I'm saying no more but once you read the beginning of the book you will know what I mean!
It is a fast and furious read with a very strong sense of authenticity about it; there is a real feeling of this is what it is really like on the streets as an undercover officer; a no-nonsense approach to the telling of the story with realistic dialogue between the characters. It's dark, it's cruel and it's engrossing! I really found myself caught up in the thick of it all! The sense of place is superb, I found myself on the streets of London, some places which I had been and those where I hadn't I found myself in the thick of it all.
Rubicon would translate perfectly into a TV series, it has got that edge about it that keeps it raw, fresh and gritty. Organised crime and corruption go hand in hand to provide a "grab you by the throat" kind of read! Read it and see!
Rubicon is available to purchase via:
About the author
Educated in Nottingham, Ian left school at sixteen. After three years in the Civil Service he moved to London for a career in the Metropolitan Police. He spent twenty-seven years as a police officer, the majority as a detective within the Specialist Operations Command. A career in policing is a career in writing. Ian has been used to carrying a book and pen and making notes. Now retired, the need to write didn't leave and evolved into fiction.
Rubicon is his debut novel published by Fahrenheit Press. He now lives in rural Scotland where he divides his time between family, writing, reading and photography.