Friday 21st Sept
It has been a long year I can tell you! My countdown to Bloody Scotland started on the 10th Sept 2017 and I was almost shaking with excitement when the 21st Sept 2018 arrived and it was time for my trip back to Stirling for my favourite crime festival ever!
Now I only stay a half hour train journey from Stirling so I could technically go as a day tripper but such is my love of this festival that I want to soak up every minute of it and so I stay for the weekend! This year I was joined by fellow blogger, Sarah Hardy, who was attending her first ever Bloody Scotland! We turned back the clock of ages and became "yoofs" again as we bunked down in the Youth Hostel for the weekend!
I'm not going to lie, it wasn't the lap of luxury but it was clean and cosy. For those travelling on a budget, it is certainly worth considering! Sarah and I only used it as a place to rest our heads at the end of the night.
Thankfully #StormAli decided to do one and the skies were blue for my trip to Stirling! Parked up at accommodation for the weekend, Stirling Youth Hostel, which happens to be in the grounds of a graveyard, fitting or what! A quick bite to eat in The Cross Peels while waiting on my #PartnersInCrime to arrive
Finally, Sarah and Noelle arrived and we met up for a quick refreshment with Alison Baillie, Chris Simmons and Graham Smith before dumping our bags and making our way to the Gala Opening and McIlvanney Prize ceremony. From last year's venue, Stirling Castle, we moved to the atmospheric Church of the Holy Rude, which is where James VI was crowned King of Scotland.
It was great to bump into the lovely Kelly Lacey and Gordon McGhie too and thanks to Kelly who takes such wonderful selfies! I really do need to find out what that filter is called!
The night started off with the famous Bloody Scotland Gin Cocktail from Stirling Gin which hit the spot perfectly as we waited for the announcement of the winner of the McIlvanney Prize. I certainly didn't envy the task of the judges who had to pick from four outstanding writers, Lin Anderson (Follow The Dead); Chris Brookmyre (Places in the Darkness); Liam McIlvanney (The Quaker); Charles Cumming (The Man Between).
Rapturous applause broke out when the winner was announced as Liam McIlvanney with his brilliant novel, The Quaker.
The judges of the McIlvanney Prize this year were Craig Sisterson, Alison Flood, and comedian, Susan Calman who said of the winner:
'The Quaker was, for me, the standout book from the longlist. It's one of those novels that as soon as I finished it, I looked forward to reading it again. Not only did I love the evocative recreation of Glasgow but the characters created were refreshing and surprising. It was such a pleasure to read.'
In 2016 the prize was renamed in memory of Liam's father, William McIlvanney, the much-loved Godfather of Tartan Noir.
Congratulations Liam!
It was then time for one of my favourite parts of the festival, the torchlight procession from the Castle to the Albert Halls. There are no words to describe this event, it sends shivers down my spine, makes the hairs on my neck tingle and brings a tear to my eye! There is something so very special about being piped down the cobbled streets of this historical city as passers-by stand in wonder at the sight before them. It is magical and I would urge anyone who has never been before to put this one on their bucket list! I do have to say that I think Sarah was a little afraid of the flames, or perhaps she was simply a little afraid of my levels of excitement about the flames!
I was also stoked to bump into the Kiwi legend that is Craig Sisterson.  Not only is Craig one of the judges for the McIlvanney Prize, but he is also the man behind the Dame Ngaio Marsh Awards in New Zealand. A former lawyer, journalist and freelance writer, Craig is well-known in the crime fiction world and he is one of the friendliest guys you will meet. It is always a pleasure to bump into him!
It was then a quick stop at the Golden Lion before heading down to the Albert Halls for the Fun Lovin Crime Writers! You know how you hear bloggers and readers saying that authors are our rock stars? Well, these guys have only gone and proved it! Featuring the musical talents of Doug Johnston, Val McDermid, Stuart Neville, Luca Veste, Mark Billingham and Chris Brookmyre, these guys had the Albert Halls rocking in the aisles! This was the first time I'd seen them and they were bloody fantastic! Luca Veste, I shall never look at Britney Spears the same again!
Back to the Golden Lion for a little nightcap and we bumped into the gorgeous Tracy Mearns, wife and informal publicist supreme of Steve Cavanagh! This woman is wild and absolutely lovely with it! Helen Fitzgerald, latest signing for Orenda was also there and she is batshit crazy in the BEST possible way! (Thanks to Noelle and Tracy for these pictures!)
I also bumped into the lovely Doug Sinclair, who I know is going to have finished his book by this time next year…aren't you Doug!! See the evil eye I'm giving you in this second pic!
Saturday 22nd Sept
An early rise on Saturday morning saw Sarah and I line our stomachs with bacon rolls and some caffeine before heading to meet up with Alan Jones, Alison Baillie, Graham Smith, Claire Duffy, Claire MacLeary and Ian Skewis for some "Crime at the Queue" which was an unofficial fringe event dreamt up by Alan. Despite our best efforts, this one didn't quite go to plan but in-depth discussions and negotiations took place to ensure that it goes to plan next year…watch this space!
For me, it was then time to join the "Crime Writers on the Psychologists Couch" with Lin Anderson and Craig Robertson being interviewed by Dr Kathy Charles. A fascinating insight into the dark minds of two of my favourite Scottish crime writers. This session covered everything from online trolling and sleep paralysis to covert photography and looked at what drives both Lin and Craig into the darker side of human nature! I was delighted when Lin gave me and my blog a wee mention on stage as I had discussed my experiences of sleep paralysis with her at her Edinburgh launch.
Just prior to the event, as with each of the events at the Albert Halls, the session was opened by one of the Crime in the Spotlight authors and for this session, it was the lovely Heleen Kist reading from her novel, "In Servitude" which I am currently reading!
Crime in the Spotlight was the brainchild of Gordon Brown and it allows emerging writers the chance to read from their works. This demonstrates the commitment the festival has to support new authors and it was great to speak to some of the authors who took part this year.
Thanks to Mary over at Liveanddeadly blog some of us bloggers met up for lunch and a chat at the Stirling Highland Hotel. It was a great chance to meet up and have a wee blether about our love of books and blogging and to catch up on each other's lives! We definitely need to do this again! We actually need a bloggers retreat!
After lunch Noelle, Sarah and I headed off to Family Secrets with Ruth Ware, Mel McGrath and Caroline Mitchell chaired by Alex Sokoloff. Ruth, Mel and Caroline were discussing the secrets that inspire their writing; they covered the Nature V Nurture debate, considered how we demonize children and our appeal for domestic noir!
A quick dash along to Michael J Malone's pop up launch for "After He Died" and a bit of author stalking of CJ Tudor!
Next up was "The Kiwis are coming!" with Fiona Sussman, Paul Cleave, Denise Mina and Liam McIlvanney. This panel was chaired by Craig Sisterson and was a fascinating discussion on noir in New Zealand and its similarities to Scottish crime fiction. The use of real-life crime as a basis for fiction was explored with some excellent debate over the ethics of this. With some lively banter between Denise Mina and Paul Cleave, I could have stayed and listened for way longer than an hour!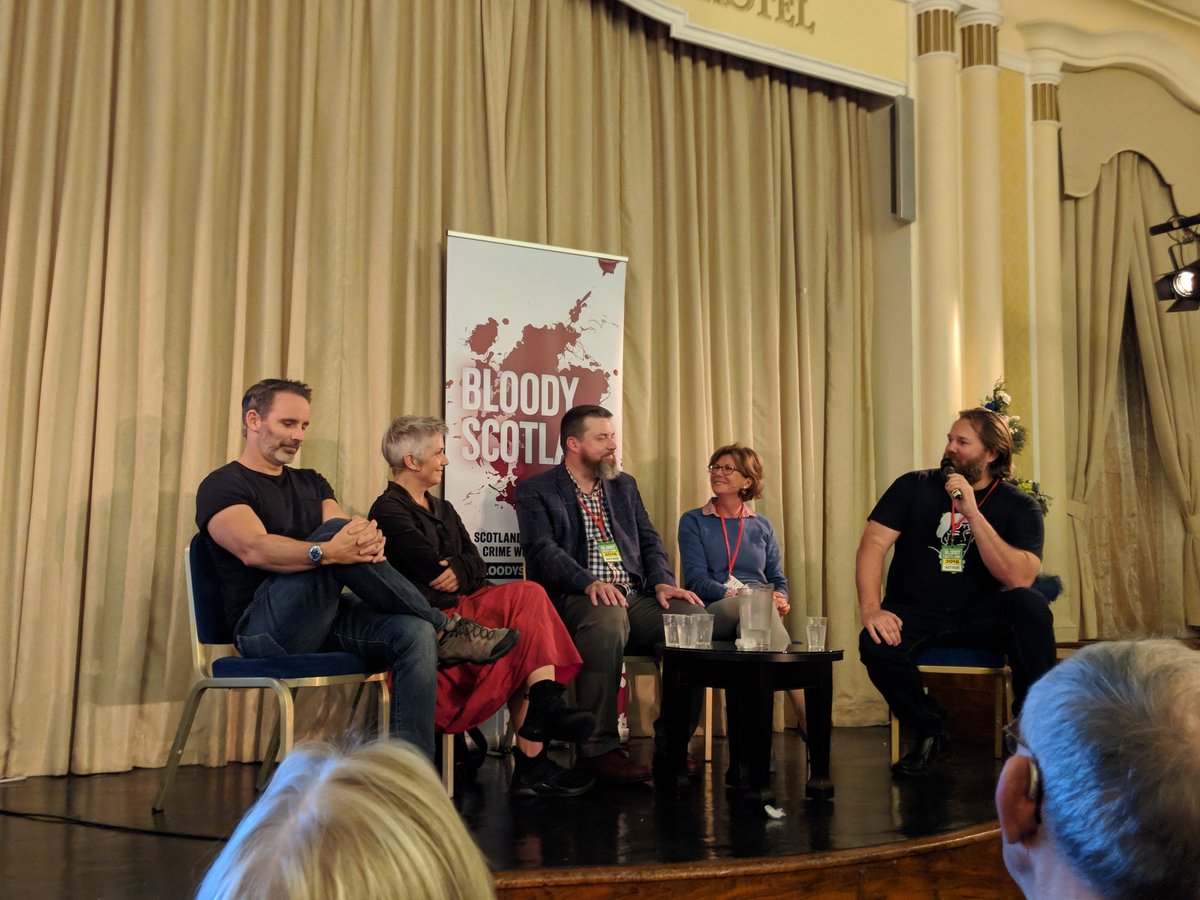 It was then back to the Golden Lion to catch up with everyone and after a busy couple of days we ended up parking our butts there for the night! Excellent chat, sore jaws from laughing and I even got to steal some chips from Nicky Black! But don't mention the #DoubleDipping conversation which had us howling! Noelle also discovered a new trick, if you say Will Dean's name three times, he appears! I tried it yesterday when walking the dog and it didn't work though!
It's fair to say that a few gins were sunk that night before heading home to get some sleep before the last day of the festival!
Sunday 23rd Sept
We kicked off Sunday morning with a full breakfast and lots of caffeine before heading to Pitch Perfect which is Bloody Scotland's annual search for the next big name in crime fiction! With previous winners including Alison Belsham, Matt Wesolowski, Steph Broadribb and Joseph Knox, places at this event are coveted by all aspiring crime writers. This year the panel was chaired by literary agent Jenny Brown and included Karen Sullivan (Orenda Books), Phil Patterson (Marjaq Scripts), Karen Robinson (The Times and Sunday Times Crime Club) and Vikki Reilly (Publishing Scotland).
It was a fascinating insight into what publishers and agents are looking for in submissions and an excellent opportunity for all pitchers to receive some professional feedback on their work. An excellent line up of pitchers this year:
Daniel Culver (Dissecting the Wren)
Forest Issac Jones (Shadows)
May Rinaldi (And Then We Sever)
C.O. Vollmer (Safer To Be Feared)
Anna Pietrzkiewicz-Read (Behold The Man)
Sandra Kohls (This Ain't the Summer of Love)
Eileen Wharton (Daddy Longlegs)
Simon Cowdroy (Trial Run)
The winner of Pitch Perfect this year was C.O. Vollmer and "Safer To Be Feared)
It was then time to say goodbye to Noelle and Sarah who were heading home! But fear not we are all already booked up to go again next year!
I headed over to The Golden Lion for "Time's Up for violence against women" with Sophie Hannah, Alexandra Sokoloff and Jo Jakeman. This was an intense, informative and fascinating panel covering the male and female gaze in crime fiction, the use of rape as a plot device, exploitation of women in the film industry as well as a legal system which doesn't prosecute rape and sexual crime as it should.
Crime fiction is a perfect medium for social issues and so writers need to take this seriously Alex Sokoloff stole the panel for me, her passion and drive for social justice and to give women who have been abused a voice is immense. She is a warrior and I was delighted to get a quick chat with her in between events, she is inspirational and I for one could have easily spent the rest of the day at this event!
A coffee and cake break before a quick sprint back down to the Allan Park Church for Crime that goes bump in the night! With Luca Veste, CJ Tudor and Alison Belsham this was an excellent discussion on the mix of crime, horror and the supernatural. Sinister children's nursery rhymes and myths were all discussed along with settings and character development and of course with Luca on the panel there was a healthy dose of humour!
I had chatted with Luca earlier about his recent domestic injury which kept him out of the Scotland/England Football match this year and given my own recent domestic injuries sustained while hanging out washing, along with Noelle we have come up with a new genre…#HouseworkNoir  and I have to say poor Sarah looked pretty horrified at the methods of killing that Noelle and I were coming up with! Not sure she will be visiting us any time soon!
The closing event that I attended this year was the critically acclaimed(!!!) stage show of "Carry On Sleuthing: Murder at the Knickerage" and featuring a cast of talented(!!) actors and actresses! Caro Ramsey, Theresa Talbot, Douglas Skelton and Michael J Malone, along with some guest appearances from Alex Gray, Gordon Brown, Neil Broadfoot and Lin Anderson, had the audience gasp in astonishment, cry with laughter (I think!) and howl in the aisles as they brought the curtain down on Bloody Scotland 2018! There are no words to describe this experience (well there are but…) so I will let the pictures speak for themselves! But seriously if you ever get the chance to go and see this then DO IT, it is hilarious!
And that was it, The End!  This was the most successful Bloody Scotland so far,  with ticket sales up 17% on last year. This festival is a MUST for all crime fiction fans, it manages to maintain a unique intimate feeling while bringing some of the biggest names in the business to the event. Committed to supporting new and emerging writers it is one of the friendliest, if not THE friendliest Crime Fiction Festivals out there!
To all the Board, staff, volunteers and writers who come together to make this event the highlight of my year THANK YOU from the bottom of my heart!
I'm crying because it's over but my heart is warm with the memories made!
Sign up to the website for updates and get your place booked for next year's event which will take place on 20th – 22nd Sept 2019. I'll see you there!