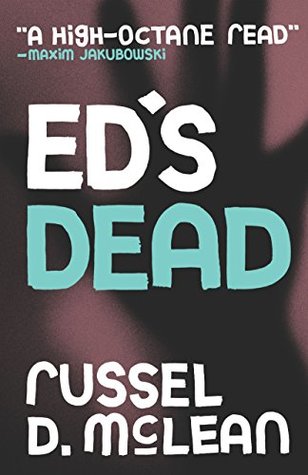 I'm delighted to be sharing my thoughts on Russel D McLean's "Ed's Dead". I have had this on my radar for a while and was actually meant to read it a few months ago for my real-time book group. However, life got in the way but I think this read came to me just at the right time!
Before I share my thoughts, here's what the official blurb says:
"A high-octane read." – Maxim Jakubowski Meet Jen. She works in a bookshop and likes the odd glass of Prosecco… oh, and she's about to be branded The Most Dangerous Woman in Scotland.
Jen Carter is a failed writer with a rubbish boyfriend, Ed. That is until she accidentally kills him one night. Now that Ed's dead, she has to decide what to do with his body, his drugs and a big pile of cash. And, more pressingly, how to escape the hitman who's been sent to recover Ed's stash. Soon Jen's on the run from criminals, corrupt police officers and the prying eyes of the media. Who can she trust? And how can she convince them that the trail of corpses left in her wake are just accidental deaths?
A modern noir that proves, once and for all, the female of the species really is more deadly than the male.
My thoughts:"
Well, I sure wasn't expecting that! What a breath of fresh air "Ed's Dead" was after a few dark reads this was just the breather that I needed!
We've all met an Ed in our lives! Y'know that kind of guy that acts ever so suave, so cool and so out there but in reality he is just a plain d##k. Well Jen's boyfriend is that man and our introduction to his character as he eyes up the female barista right in front of Jen is testament to that, so already I'm on her side before I even know how it's going to pan out!
Now Jen, what can I say, she really engaged me, I connected with her immediately there was just something about her. The author has created a brutally honest character in Jen. Her self-reflection over her perceived failings and choices in life; the scenes where she talks about her secret ambition to write a book, her job as a bookseller and a night out with her friend getting drunk on prosecco to banish thoughts of Ed from her head all combine together to paint a perfect picture of an average young woman who is about to have the most extraordinary experiences!
A sharp caustic narrative reminds you of the setting, Glasgow to the core combined with a brilliant sense of place Ed's Dead is one of those rare reads that is dark yet peppered with a subtle wit. This was one of those books where I was reading while thinking "no way" as the plot unfolded in front of me but despite this, I was totally engrossed in the book and unable to put it down. Such is the author's skill, the narrative had me hooked as I was caught up completely in the consequences of one mistake.
With bodies dropping left right and centre, there is no shortage of action in this novel; Jen soon discovers that her ex-boyfriend was certainly mixed up in something much dodgier than a few one night stands. We meet some right strange characters in this novel as Jen makes her way through the gangland scene of Glasgow. With some excellent descriptions going on, a favourite of mine was that of the city waking up in the early hours, the sense of place whether on the streets of Glasgow or by the banks of Loch Lomond, was outstanding!
Ed's Dead does not let up the pace, it's foot down on the accelerator from start to finish so you had better buckle up your seatbelts as you are in for one hell of a ride! Just don't annoy the bookseller the next time you are in the bookshop!
Ed's Dead is available to purchase from:
About Russel:
"An exceptional talent" – – John Connolly