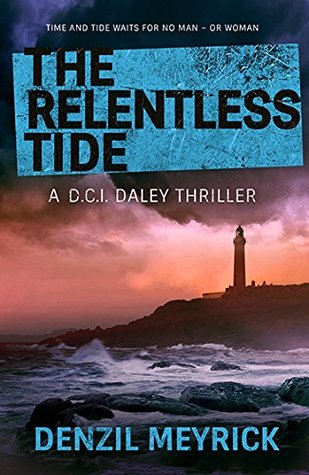 After my Denzil Meyrick binge earlier this year, I was more than ready for the latest novel in the series! And let me tell you, I was not disappointed! I received an advanced copy from the publisher but didn't want to sully the pages of my signed book and this review is from the Kindle version which I purchased.
Before I share my thoughts, here's what the official blurb says:
When Professor Francombe and her team of archaeologists find the remains of three women on a remote Kintyre hillside – a site rumoured to have been the base of Viking warlord Somerled – their delight soon turns to horror when they realise the women tragically met their end little more than two decades ago. It soon becomes clear that these are the three missing victims of the 'Midweek Murderer', a serial killer who was at work in Glasgow in the early 1990s.
DCI Jim Daley now has the chance to put things right – to confront a nightmare from his past and solve a crime he failed to as a young detective. However, when Police Scotland's Cold Case Unit arrive, they bring yet more ghosts to Kinloch.
A tale of death, betrayal, Viking treasure and revenge set in the thin places where past, present, and future collide.
My thoughts:
A killer hook of an opening with that prologue. I tasted the salt of the sea and felt the pain of the child as I read it. Effortlessly switching between the present day and the early 1990s The Relentless Tide provides a fascinating insight into the lives of a much younger Daley and his sidekick Brian Scott. It helps us see the experiences that shaped both men into who they have become. We can see how they have grown and developed over the series and how relationships and incidents have affected them. With some appearances from previous characters, this served to cement my dislike for some of them,  John Donald being one of my most despised characters of the series to the delightful Hamish, who along with Brian Scott, is one of my favourite characters of the series.
Denzil Meyrick pulls you right into the heart of his books with his atmospheric narrative. It's impossible to read this series without finding yourself transported to the location and into the heads of the characters. His in-depth portrayal of the characters means I have a very firm view of how I see them and indeed hear them in my head. It is the strength of the characters created that engages me in the plot of a novel and Denzil Meyrick has got this skill down to a fine art.  Brian Scott remains my favourite character; his sense of humour and dry sarcasm has me in stitches and the relationship between him and Daley is spot on. There were a few new faces to get to know, some of whom set my teeth on edge right away and others that were a little enigmatic. I'm saying nothing about them and will let you discover for yourself!
Obviously, the plot is important here too and my main focus on this review has been the characters! But without believable characters, a plot will never have that dynamic, that oomph that the reader seeks out. Without giving any spoilers, the plot is dynamite, it marries up the past and present as an archaeological dig unearths the bodies of three women who clearly have not been underground since the time of Vikings. And this is where Denzil Meyrick absolutely nails this plot, he combines the flashbacks to the 1990s and a serial killer in Glasgow to present day Kinloch. This is made all the more interesting when one of Daley's colleagues from the past, retired detective Bobby Spiers, is called in to assist, it soon becomes apparent that a shared history doesn't always mean a fond reunion. Daley's ex-wife pops up in this book and I know that I should be more understanding of her but she really grinds my gears! We also get to see a little more of Brian Scott's wife Ella as she considers a move to Kinloch and her arrival may ruffle a few feathers. Once again Denzil Meyrick pulls the wool over the readers' eyes and he certainly kept me guessing all the way up to the very end! Other readers have commented that this is the best in the series so far and do you know what…I one hundred percent agree!
There was only one thing wrong about this book and that is the months I'm going to have to wait for the next one!
The Relentless Tide is available to purchase from: