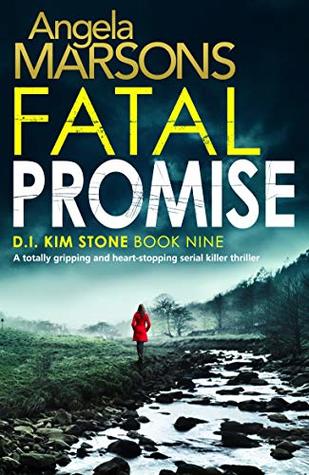 I am a fully paid-up member of the Angela Marsons/Kim Stone OFC (Obsessed Fan Club) and I was champing at the bit to read Fatal Promise which is BOOK NINE in the series! So huge thanks to the author, Bookouture and Netgalley for making that possible!
Before I share my thoughts then here's what the official blurb says:
Eeeny meeny, miney, moe. Who lives, who dies only I know. 
When the body of a doctor is discovered brutally murdered in local woodland, Detective Kim Stone is shocked to discover the victim is Gordon Cordell – a man linked to a previous case she worked on involving the death of a young school girl. Gordon has a chequered past, but who would want him dead? 
As the investigation gets underway, Gordon's son is involved in a horrific car crash which leaves him fighting for his life. Kim's sure this was no accident. 
Then the body of a woman is found dead in suspicious circumstances and Kim makes a disturbing link between the victims and Russells Hall Hospital. The same hospital where Gordon worked. 
With Kim and her team still grieving the loss of one of their own, they're at their weakest and facing one of the most dangerous serial killers they've ever encountered. Everything is on the line. Can Kim keep her squad together and find the killer before he claims his next victim? 
The killer is picking off his victims at a terrifying pace, and he's not finished yet.
My thoughts:
Stop right there! If you haven't read the last book in the series (Dying Truth) you may live to regret it! This is the 9th in the series and I really do recommend that you read them all but at the very least read the last one! It's kind of necessary to get the full impact of this stage in the series. You don't need to, of course, it is entirely up to you but don't say I didn't warn you…
Angela Marsons never fails to hook me at the start of her books and once again I curse myself for starting reading it at bedtime because I know it will seriously eat into my sleep! Starting off with the voice of an unknown narrator at a funeral then immediately I was drawn in, no actually I wasn't simply drawn in, I was dragged in head first into the story and spat out at the other end!
Kim and her team are reunited after the tragic events of the last book and tensions are palpable, the grief is still raw and as a reader, I was immediately transported into the midst of the team and found it easy to empathise with what they were going through. DI Kim Stone is struggling both mentally and physically but being her usual self she refuses to reach out to others preferring to withdraw into the safety of her own company and thoughts.
When DS Austin Penn joins the team as a temporary replacement it is evident that not everyone is willing to accept him as one of them. It is clear that something more lies behind his return to the team and my heart went out to him as the others struggled or indeed, refused, to connect with him.
Kim has paired up with Bryant again after 6 weeks apart. I love the relationship between these two. It is an easy bantering relationship with mutual respect and understanding, He's the only one able to challenge her and they are a perfect pairing but this time around there is something niggling away at their relationship but just what will it take to restore a sense of balance?
Dogged determination drives Kim and she never lets her own demons stand in her way, in fact it is those very demons who drive her – protective of her team and fiercely loyal she is someone you would want on your side all the way; her past is explored through her relationship with longstanding friend and therapist Ted and the author cleverly lays out more of Kim's ghosts and troubles to the reader
When the team are called to investigate a brutal murder it soon becomes clear that Stacey is caught up in an investigation of her own; it remains to be seen whether or not she will come clean and tell Stone what she is up to or will she proceed full steam ahead and is this Stacey's time to begin to develop herself further in her career? I won't add any spoilers but I really enjoyed this subplot and the investigation that she was working on, I found it absolutely fascinating.
Expertly plotted once again the author demonstrates her real talent for bringing her characters and plot to life, through the lens of the characters we learn what makes them tick and what sends them over the edge, with each installment of the series I feel I have got to know them better, Hell sometimes I think I'm going to turn in the tv and see Kim stone give a press conference. Angela Marsons has created a cast of truly believable characters who worm their way under your skin, with each installment of this series they grow and develop making their way out of the pages and into your head.
Fatal Promise is about choices, love, and grief. It explores the impact that each of these has on us. We also see the dynamics of Kim's team bear the brunt of loss and grief and how a small almost familial unit can be torn apart by one tragic act and what needs to be done and accepted to bring it back together again.
A fascinating read full of twists and turns and that deliciously devious mind that is Angela Marsons. If you haven't read any of her books yet then you are seriously crazy! What are you waiting for!
Fatal Promise is available to purchase from: