I'm delighted to be sharing my review of Streets of Darkness by A.A Dhand. Published in 2016 this review is of a purchased copy via Amazon.
Before I share my thoughts, here's the official blurb:
Luther meets The Wire, this is the first Detective Harry Virdee novel
The sky over Bradford is heavy with foreboding. It always is. But this morning it has reason to be – this morning a body has been found. And it's not just any body.
Detective Harry Virdee should be at home with his wife. Impending fatherhood should be all he can think about but he's been suspended from work just as the biggest case of the year lands on what would have been his desk. He can't keep himself away.
Determined to restore his reputation, Harry is obliged to take to the shadows in search of notorious ex-convict and prime suspect, Lucas Dwight. But as the motivations of the murder threaten to tip an already unstable city into riotous anarchy, Harry finds his preconceptions turned on their head as he discovers what it's like to be on the other side of the law…
My thoughts:
Deciding to treat myself from my own TBR I picked up "Streets of Darkness" after buying it last month and I really don't know why it took me so long to read this book! I am absolutely gobsmacked at the sheer brilliance of this read!
Set against the backdrop of a crime-ridden Bradford, Detective Harry Virdee is suspended from work and we are first introduced to him as he reflects on his actions and the forthcoming birth of his baby. His thoughts are rudely interrupted by a discovery which will have far-reaching consequences for the city. His former boss, Detective Superintendent George Simpson,  asks for Harry's assistance in a case that is about to blow an already fragile city apart.
The sense of place is impeccable, I've never been to Bradford but the author's description set me smack bang in the middle of the city. He paints a dark picture of a multicultural community where the city is losing the war on drugs and where the right-wing politics are never far away. As I read I could almost see the decay of the city and the derelict factories appear in front of my eyes. The political tensions and the unrest simply oozed from the pages and the undercurrent of fear was indescribable!
Religious divides are explored as Harry Virdee and his wife, Saima, have both been disowned by their families for marrying outside of their faith. There is something intrinsically dark about Harry, something we can't quite place our finger on at this early stage in the series but despite this, he engages, no, he draws you into his world. The layers of his character are slowly peeled away as the book progresses and secrets, lies, revenge and guilt are gradually uncovered. A complex character who wormed his way right under my skin. I am seriously HOOKED! His relationship with Saima is explored and it is one that is intense, strong and loving yet plagued with guilt and wonder at what the future holds for them as a family. Saima was a perfect balance to Harry's darkness.
Harry has been tasked with bringing in Lucas Dwight, as the main suspect in the recent murder. Of course, Harry is suspended and his boss, Simpson, gives him carte blanche to go rogue on this investigation. Just what is Simpson's motivation behind this action? Lucas has just been released from a 14 year stretch in prison and was a BNP activist when he went to prison fuelled by hatred. Has his time inside changed him and just how far is Harry prepared to go to the other side of the law to let him prove his innocence.
There are a few bad guys and I'm not going to name them but when I say they are bad, I mean they are BAD! As the secrets and lies unfold the lengths that the bad guys will go to knows no bounds!
Right-wing politics and racism are not shied away from in this nail-biting fast-paced and completely authentic drama. It challenges perceptions and beliefs and provides a fascinating insight into faith, traditions, and culture as the city goes into meltdown. With blackmail, drugs, revenge and corruption added to the mix, there is not a chance that you will be able to put this down once you pick it up! Well drawn characters pull you into the storyline and keep you engrossed until the very last page. This one has it all, the sense of place, the characters and an intensely clever plot. DI Harry Virdee you have found yourself a brand new fan!
Streets of Darkness can be purchased from:
About the author: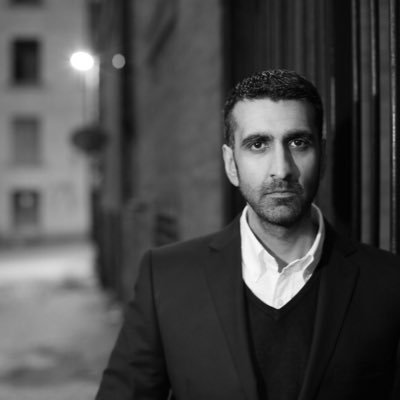 A.A. Dhand was raised in Bradford and spent his youth observing the city from behind the counter of a small convenience store. After qualifying as a pharmacist, he worked in London and travelled extensively before returning to Bradford to start his own business and begin writing. The history, diversity and darkness of the city have inspired his Harry Virdee novels.