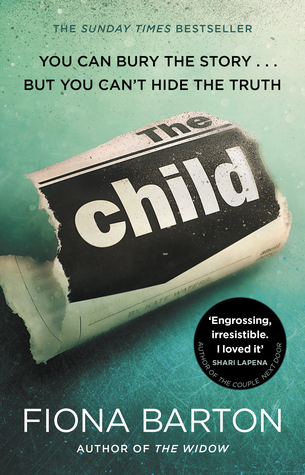 I bought "The Child" ages ago after reading "The Widow" by the same author and it has languished on my TBR for some time now! As a huge fan of The Widow by Fiona Barton, I really don't know why it took me so long to get round to it!
Before I share my thoughts, here's what the official blurb says:
'An engrossing, irresistible story about the coming to light of a long-buried secret.
When a paragraph in an evening newspaper reveals a decades-old tragedy, most readers barely give it a glance. But for three strangers it's impossible to ignore.
For one woman, it's a reminder of the worst thing that ever happened to her.
For another, it reveals the dangerous possibility that her darkest secret is about to be discovered.
And for the third, a journalist, it's the first clue in a hunt to uncover the truth.
My thoughts:
What a haunting, chilling and emotional read. The Child is told from the POV of four women, Kate Waters, the journalist who featured in The Widow, Emma, Angela, and Jude. When the remains of a child are found buried on a building site, journalist Kate immediately senses a story. Her investigation leads her to the other three women who are all in some way connected to this child.
What follows next is both suspenseful and heartbreaking as we hear each woman's story played out through their own narrative. Secrets, lies, manipulation, and abuse all unravel to tell the story of what happened to this poor child and along the way the reader is taken on a painful and tragic journey.
Without giving any spoilers away, each woman brings something different to the narrative and the voices of Emma, Jude and Angela are at times distressing, harrowing and dare I say unreliable as the reader tries to work out just who is telling the truth and what lies are they trying to keep buried.
I particularly enjoyed Kate's character, as a journalist in her 50s, she is well aware of her declining employability factor in a profession that is being eroded by the online world and celebrity obsession that seems to have taken over our news. She is astute enough to know that times are changing and that as a woman in her 50s she is going to have to play a harder game to maintain her place. It was refreshing to meet a character of a similar age to myself and for her to be strong but with a strong moral code and an empathy that many feel to be lacking in the profession. She brought a sense of authenticity and justice to the story and I am hoping that the author has many more books to come featuring Kate!
Short, sharp characters keep you on that "just one more chapter" phase which means it is hard to put the book down. Not a fast-paced plot but a slow-burning emotional mystery. I loved it!
The Child is available to purchase from Amazon UK and Amazon US