When James at Waterstones in Sauchiehall St messaged me to ask me if I'd like to interview Kimberley Chambers…THE Kimberley Chambers I was completely gobsmacked and honoured to have been asked and when I found out Anna Smith would be joining us as well then I was over the bloody moon!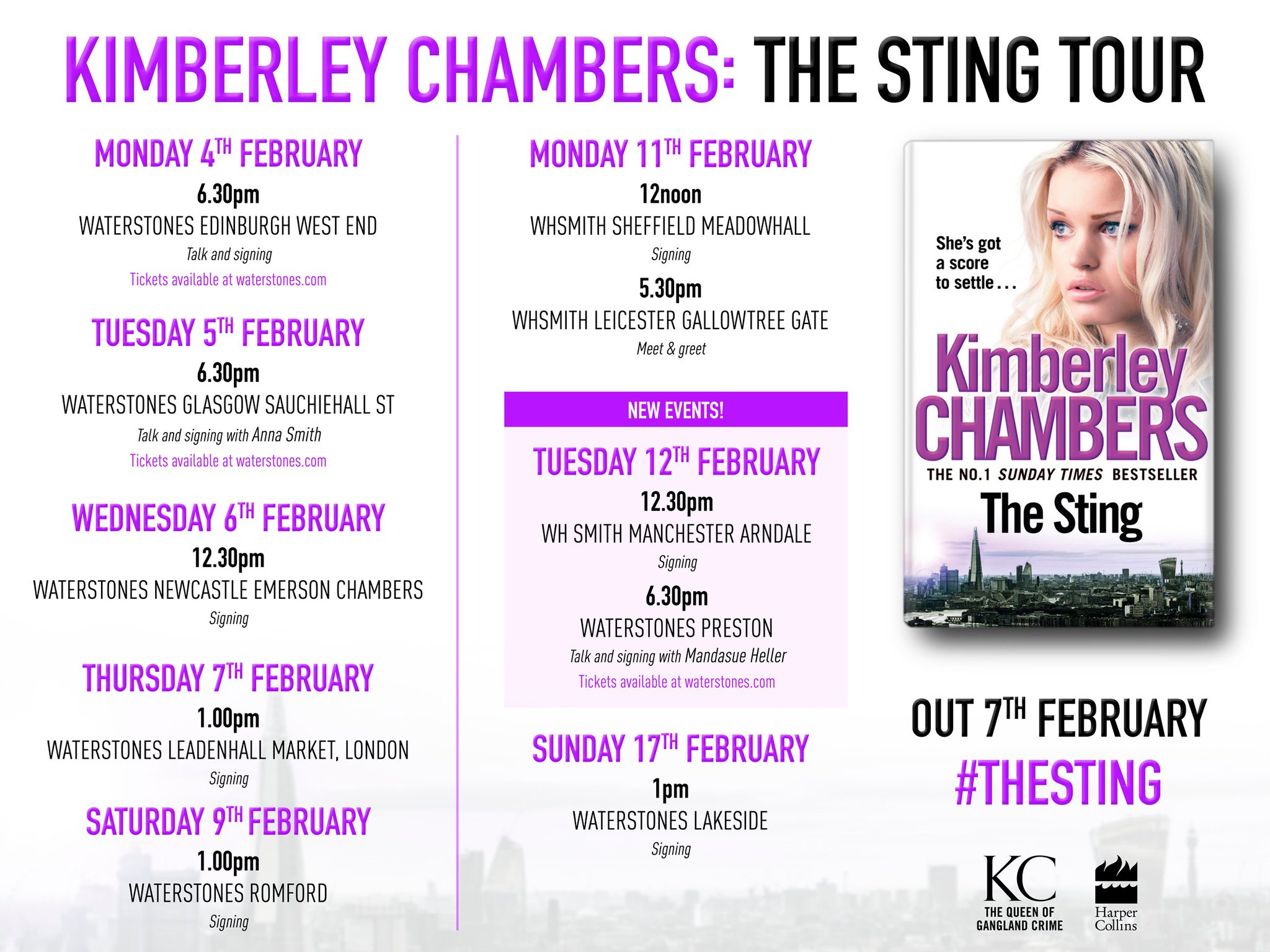 Feeling a little bit nervous and very much in awe, I headed off to my favourite Glasgow bookstore on a cold and wet winter Tuesday evening after work! Glasgow folk are hardy though and a good crowd turned out to welcome Queens of Crime Kimberley and Anna to Waterstones Sauchiehall St. for the second night of Kimberley's #TheSting Tour!
I needn't have worried at all. Right from the very beginning, I knew that I was going to like Kimberley, she was refreshing and down to earth and exactly as I had imagined her to be. I had met Anna before at a few events and it was obvious that both authors already had a great rapport and this was evident as the night went on and they bounced off one another. They had the audience eating out of their hands! It was heartwarming to see members of the audience queue to speak to both authors about their books and to tell them the pleasure they get from reading them…what a buzz!
The event kicked off with Kimberley and Anna talking about their latest books, #TheSting, and #Fightback. I won't give away any spoilers but I have read The Sting and OMG you do not want to miss this one! Read my review here. I am also dying to read Fight Back as I've been waiting forever for this following the first in the series, Blood Feud, last year! You can read my review here.
We talked about everything from writing processes to the menopause(!) yes that's right, the menopause! The rock and roll lifestyle of crime writers was also discussed as well as the benefit of locking yourself away in a remote location to write. Kimberley confessed exactly what she is up to at 3am in the morning while Anna spilled the beans about her sleeping pattern and her daytime activities!
There was some serious discussion too though, the importance of books in engaging people from all walks of life, some of the real-life stories and situations that inspire their writing; opening up reading to everyone and the despair over "book" and "genre" snobbery. Anna and Kimberley summed it up perfectly when they said there is a place for every type of book and reader from all walks of life. Kimberley's journey to her place as a best selling author is inspiring. She always dreamed of making something of her life and when contemplating a career as a hairdresser in her late 30s she decided that she was going to write a book and write a book she did…the rest is history!
These two writers bounced off each other the whole event, they probably didn't even need me there to chair but it was an honour to have been there! I could have sat with both of them all night and listened to their inspirations behind their books, their processes for writing and the experiences that led them to where they are now. All I can say that if you are able to go and see either of these two brilliant crime writers then do it…you will not be disappointed!
Kimberley's books can be bought :
Anna's books are available to purchase from:
Dates for #TheSting Tour: