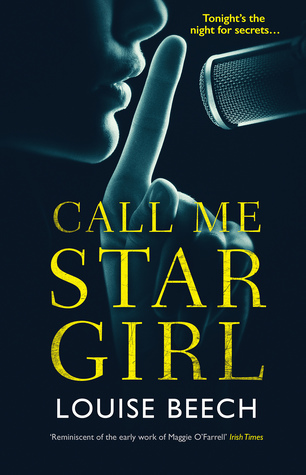 It's my birthday treat to be on the Blog Tour today for the latest novel from the talented Louise Beech! I'm currently on a little Orenda Books binge (well, they have such fabulous authors, it is difficult to stop myself being so greedy!) Thanks to Anne over at Randomthingstours for inviting me to be a part of the tour for Louise Beech's "Call Me Star Girl". Thanks to Orenda and the author for the ARC to review.
Before I share my thoughts, here's what the official blurb says:
Tonight is the night for secrets…
Pregnant Victoria Valbon was brutally murdered in an alley three weeks ago – and her killer hasn't been caught.
Tonight is Stella McKeever's final radio show. The theme is secrets. You tell her yours, and she'll share some of hers.
Stella might tell you about Tom, a boyfriend who likes to play games, about the mother who abandoned her, now back after twelve years. She might tell you about the perfume bottle with the star-shaped stopper, or about her father …
What Stella really wants to know is more about the mysterious man calling the station … who says he knows who killed Victoria, and has proof.
Tonight is the night for secrets, and Stella wants to know everything…
With echoes of the chilling Play Misty for Me, Call Me Star Girl is a taut, emotive and all-consuming psychological thriller that plays on our deepest fears, providing a stark reminder that stirring up dark secrets from the past can be deadly…
My thoughts:
I was instantly captivated as Louise Beech once again proves that she has the power to drag me smack bang right into the midst of her work. But, I show no resistance, her writing and her imagination is exquisite, who wouldn't want to be there.
Spooked from the start, a community radio station in the dead of night, a murdered woman and Stella McKeever has a strong sensation of being watched. It's her final night in the station and Stella asks her listeners to disclose their secrets to her. In my head I'm shouting noooooo but my eyes are glued to the book watching each secret unravel and getting further and further into the mind of Stella.
I loved being inside of her mind, she intrigued me. The way her character is written, with her thoughts tumbling out of her head, it's impossible not to be caught up in her life, her thoughts. Stella's story is told from first person POV making me relate to her. Through her narrative we explore her relationship with her boyfriend, Tom and others in her life. We find out what makes her tick and how she deals with things. There is also something about the book that made me reflect a little. I found myself having to pause to think every now and again. Boy does Louise Beech create characters that really get under your skin. And boy does she create scenarios which you cannot get out of your head!
Stella's relationship with her mum is not the most conventional, it was fascinating to watch how the two women interacted providing an exploration of trust, abandonment along with mother/daughter dynamics. The novel also explores dark obsessive love, just what would we do for the one we love? Stella's mum, Elizabeth, also has her voice throughout the narrative, providing an alternative view of what we first think about her.
And of course we cannot forget the callers to the radio show, each bringing their own unique slant as well as the additional tension as secrets are uncovered. Of course we cannot forget the caller to her show who claims he knows what happened to the girl found murdered in the alley. The unknown caller, adding to the suspense and tension as we begin to fear for Stella's life.
As always, Louise Beech, through her writing, made me sit up and pay attention, she made me ponder, she made me laugh and she made me cry. There is a breathtaking genius to her writing, she truly has magic flowing from her fingertips!
This is the author's first foray into psychological thriller genre and I do hope it won't be her last. As usual Louise Beech gives us her own unique slant on the genre, taking us to places in our head that we never knew existed.
Yet, Louise doesn't write just any psychological thriller, to discover the mystery you have to immerse yourself in the life of the characters; you have to have patience to make your way to the end point. Her writing is never rushed, nor hurried. It is deliciously dark and deceptive in its deliberation. It's intense and at times quite disturbing but it is one not to be missed.
Call Me Star Girl is available to purchase from:
Check out what the other bloggers have been saying:
About the author:
Louise's short stories have won the Glass Woman Prize, the Eric Hoffer Award for Prose, and the Aesthetica Creative Works competition, as well as shortlisting twice for the Bridport Prize and being published in a variety of UK magazines. Her first play, Afloat, was performed at Hull Truck Theatre in 2012. She also wrote a ten-year newspaper column for the Hull Daily Mail.
Her debut novel, How to be Brave, was a Guardian Readers' pick in 2015. The Sunday Mirror called Maria in the Moon quirky, darkly comic, original and heartfelt, and The Lion Tamer Who Lost was described as 'engrossing and captivating' by the Daily Express.
Link to her website – http://louisebeech.co.uk/