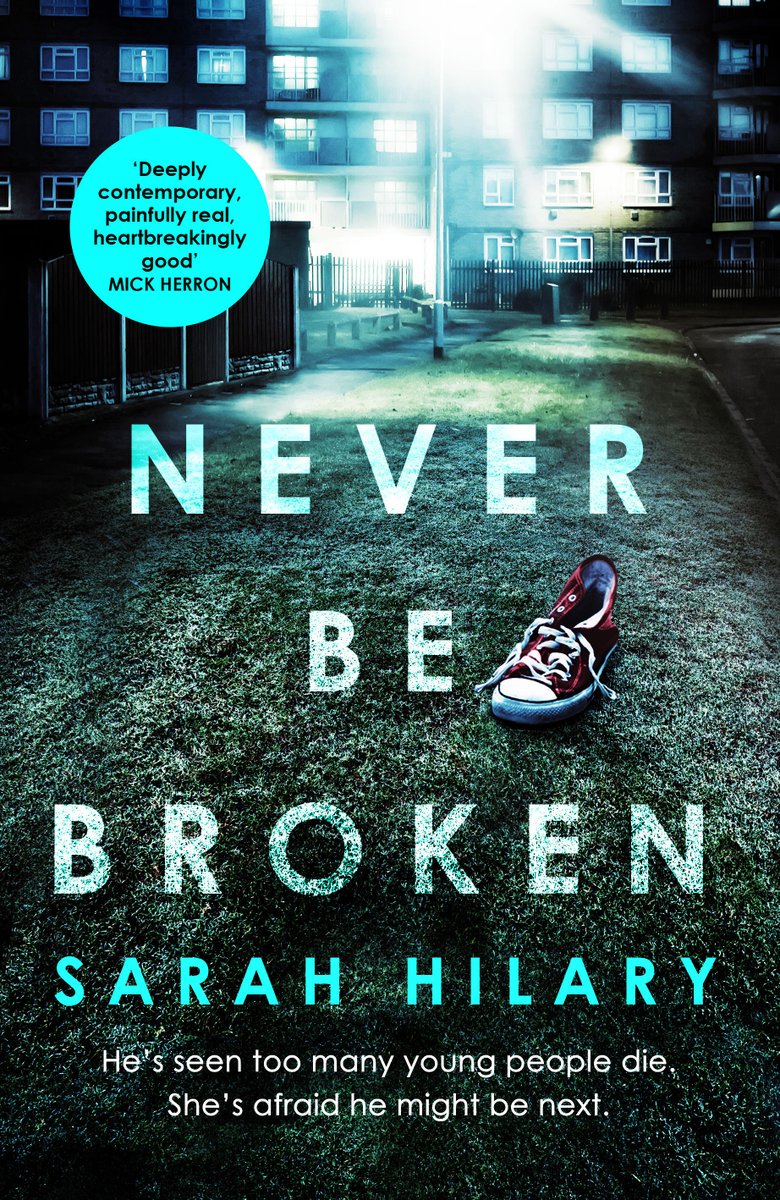 As a longstanding fan of the exceptionally talented Sarah Hilary, I'd like to give a huge thanks to publishers Headline for the ARC of the sixth in the DI Marnie Rome series, "Never Be Broken". And huge thanks to Anne over at Randomthingstours for inviting me to take part in the Blog Tour.
Before I share my thoughts, here's what the official blurb says:
Children are dying on London's streets. Frankie Reece, stabbed through the heart, outside a corner shop. Others recruited from care homes, picked up and exploited; passed like gifts between gangs. They are London's lost.
Then Raphaela Belsham is killed. She's thirteen years old, her father is a man of influence, from a smart part of town. And she's white. Suddenly, the establishment is taking notice.
DS Noah Jake is determined to handle Raphaela's case and Frankie's too. But he's facing his own turmoil, and it's becoming an obsession. DI Marnie Rome is worried, and she needs Noah on side. Because more children are disappearing, more are being killed by the day and the swelling tide of violence needs to be stemmed before it's too late.
NEVER BE BROKEN is a stunning, intelligent and gripping novel which explores how the act of witness alters us, and reveals what lies beneath the veneer of a glittering city.
My thoughts:
With one sweep of the pen and a killer hook opening Sarah Hilary dragged me screaming straight into the heart of her latest Marnie Rome novel. I found myself in a dark place, in a city underbelly with a feeling of terror under my skin! Wow, what an opener, if you can read that without visualizing or smelling the words then there is something wrong with you!
I won't rehash the plot outline from the book for you or include anything that may be a spoiler from previous books in the series. While you can technically read these as stand-alone novels I'd recommend that you read in order to get the full flavour of the characters, the relationships, and the dynamics and therefore the best reading experience you can.
Each of the novels starts where the last one ended and here we have Detective Noah Jake seeking supports for things that have happened in his past. Although Marnie Rome is the main protagonist of the series I think it's clear from readers reactions that Noah has a very strong fan base in his own right. This novel has much more of a focus on Noah. I'm definitely a fan of this multi-layered and intriguing character who acts as Marnie's sidekick. He's not had his own struggles to seek in life but yet he remains strong and loyal to those around him even when it causes him pain to do so. He's grieving and what's more, he is struggling with his grief, even his long term partner, Dan, can't get close to him to help. There were certainly some intense scenes with Noah definitely tugged at the old heartstrings!
An intense narrative ensured that I was sucked into the storyline, I could almost feel the danger reach out of the pages and wrap itself around me as gang violence, gun and knife crime erupts on the streets of London. Exploring the social media impact on our modern day news dissemination this is a topical but tightly woven novel that just keeps giving. Exploring gang culture, knife and gun crime along with drug trafficking, Brexit, racism and social inequality this novel is a powder keg. I can sense Sarah Hilary's rage from the pages, her frustrations at what we see play out on our real life screens every day.
Sarah Hilary's writing just gets better and better. Always dark, edgy and up to date, it provides an intelligently plotted storyline with relatable characters that grab your attention from the outset. It's impossible to read this and not feel a deep set rage, anguish and a very real need to make right all that is wrong with our world.
Wow! Just wow!
Check out what the other bloggers have been saying:
Published on 16th May, "Never Be Broken" is available to purchase from:
About the author:
Sarah Hilary's debut novel, SOMEONE ELSE'S SKIN, won Theakstons Crime Novel of the Year and was a World Book Night selection. The Observer's Book of the Month ("superbly disturbing") and a Richard & Judy Book Club bestseller, it has been published worldwide. NO OTHER DARKNESS, the second in the series was shortlisted for a Barry Award in the US. Her DI Marnie Rome series continues with TASTES LIKE FEAR (2016) QUIETER THAN KILLING (2017) COME AND FIND ME (2018) and NEVER BE BROKEN (2019).
Follow Sarah on Twitter at @Sarah_Hilary