I'm delighted to be taking part in the Blog Tour for Caro Ramsay's "The Suffering of Strangers"; re-published by Black Thorn Books. Caro is one of Scotland's top crime writers and this series is one that you do NOT want to miss!
Before I share my thoughts, here's what the official blurb says:
DI Costello faces a disturbing child abduction case; a six- week-old has been stolen and replaced with another baby. The swap took cold and meticulous planning, so Costello treads the seedy, Glaswegian backstreets for answers. She's convinced that more than one young life is at stake.
Promoted into the Cold Case Unit, Colin Anderson reviews the unsolved rape of a young mother, whose attacker is still out there. Each case pulls Anderson and Costello in the same direction and, as their paths keep crossing, they begin to suspect their separate cases are dangerously entwined.
My thoughts:
Oh, how I revelled getting back into a series by one of Scotland's top crime writers. You know that way you pick up a book by an author that you love to read but haven't read for a while and it makes you go all warm, fuzzy and sentimental…and a little bit excited to indulge yourself in some dark, twisted and criminal reading…or is that just me!
As soon as I started reading "The Suffering of Strangers" I remembered exactly what it was I loved about this series. The characters and the disturbing complexity of the plots combine for the perfect Scottish criminal explosion and I was not disappointed. "The Suffering of Strangers" begins with the abduction of a young baby but this is an abduction with a difference. DI Costello is tasked with heading up the investigation and she comes to the conclusion that this was not a random abduction. Costello and DCI Colin Anderson are not working together as he has been drafted into the Cold Case Unit but it is not long before the threads of each of their investigations become entwined and the pair cross paths. The question is, will it be a joyful reunion!
A huge cast of characters and a twisted plot means that you will need to concentrate throughout this book. Please don't let this put you off, it is well worth the focus as the plot is unravelled!
I bloody love DI Costello! Her dry acerbic wit definitely appeals to my inner grump! She is not the stereotypical "damaged" detective but instead, her character takes no prisoners as she continues to rub others up the wrong way with her direct, and sometimes very angry, approach. She steals the show for me in every book in this series.
DCI Anderson has also got his crosses to bear in this novel, he is quite melancholy as he reflects back on his own life and the impact of choices made. However, in this novel, his past is about to confront him but my lips are well and truly sealed #NoSpoilers here!
The Suffering of Strangers is a realistic representation of life in modern-day Police Scotland and explores some of the challenges and frustrations that come with the role. There are plenty of barbed attacks on the politics of policing and it certainly made for topical reading and indeed provoking some internal debates inside of my own head! The involvement of Social Work was portrayed with a refreshing honesty in this novel and I found myself cheering on the head of child protection, despite Costello's hilarious introduction to her!
I loved the setting of the book, poetic licence is used in relation to some of the place names but if you are from Glasgow you will know exactly where you are and I have to say I was howling at the description of Lenzie, so very true (although I'd argue the school is not all it is cracked up to be ;-))
An exploration of some pretty dark themes, no spoilers but with heavy involvement by Children Social Work department you can work out that they are not of the fluffy nature! But don't worry, there is no graphic or gratuitous description, simply an awareness that we are dealing with some rather unpleasant people at times! There was a very real sense of "things are not always what they seem to be on the surface" and boy I learned that appearances were certainly deceptive as the truth was slowly uncovered!
The Suffering of Strangers moves along at a good pace, plenty of twists and turns throughout, a fantastic ending with that ramping up of tension that had my heart racing and my brain crying out for the next one!
This is the 9th in the series (I've read all the books apart from the 7th and 8th, go figure, I was having a rebellious streak in my reading order!) but it works well as a standalone in relation to the plot. However, if like me, you like to grow alongside your characters, then go and get reading the rest of them!
Don't forget to check out what the other bloggers are saying:
The Suffering of Strangers is available to purchase from:
About the author: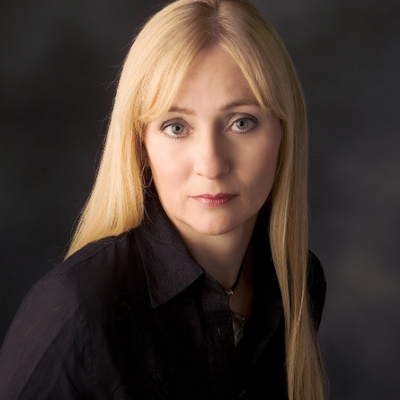 Caro Ramsay is the Glaswegian author of the critically acclaimed DI Anderson and DS Costello series, the first of which (Absolution) was shortlisted for the CWA's New Blood Dagger for best debut of the year. The ninth book in the series, The Suffering of Strangers, was longlisted for the McIlvanney Prize 2018.