I'm delighted to be sharing my review for Black Summer by MW Craven, a book that has a firm place in my top reads of 2019 already.
Before I share my thoughts, here's what the official blurb says:
After The Puppet Show, a new storm is coming . . .
Jared Keaton, chef to the stars. Charming. Charismatic. Psychopath . . . He's currently serving a life sentence for the brutal murder of his daughter, Elizabeth. Her body was never found and Keaton was convicted largely on the testimony of Detective Sergeant Washington Poe.
So when a young woman staggers into a remote police station with irrefutable evidence that she is Elizabeth Keaton, Poe finds himself on the wrong end of an investigation, one that could cost him much more than his career.
Helped by the only person he trusts, the brilliant but socially awkward Tilly Bradshaw, Poe races to answer the only question that matters: how can someone be both dead and alive at the same time?
And then Elizabeth goes missing again – and all paths of investigation lead back to Poe.
My thoughts:
My initial thought, apart from Mike Craven is a f*cking genius, is how the hell can I do justice to this book in a review? If I said, just go and bloody buy it, would that be enough? I'm writing this with a crashing book hangover after finishing the book this morning and I really don't know how I'm going to be able to pick up something else and read it now!
Black Summer is the second book in the Washington and Poe series and follows the also brilliant Puppet Show which was released last year. You can read Black Summer as a standalone but I'd urge you to go back and read the Puppet Show too just because it is worth it!
I really don't need to tell you much more about the plot other than what is contained in the blurb. It really will grab you in and spit you out in pieces at the other side. You may also be a little wary of dining in those Michelin Star restaurants as you are left asking who is the real person behind the chef whites! With a killer hook opening that will quite possibly turn you vegetarian this one has all the ingredients for a PERFECT read!
Mike draws each character beautifully, they effortlessly step out of the pages and into my life. I want to give particular reference to the stars of the show, Washington Poe and Tilly Bradshaw- I can see them, I can hear them and I'm wholly invested in them. Tilly will take a little bit of your heart, I can promise you that. We have watched her grow and develop under Poe's watchful eye. This is a genius pairing and I am hoping that this is going to be a long running series as I cannot wait to meet them again!
The bad guy, Jared Keaton, is superb! He is the definition of a psychopath! Cunning and masterfully evil he plays out that storyline to perfection.
And how I'd love to see the search history for Mike Craven's research for this book! I had no clue how things were going to pan out, it was really a work of genius and so damn clever. Right until the very end it kept me on tenterhooks!
And as usual the author provides the perfect sense of place, I defy you not to find yourself in the wilds of the Lake District and the seediness of Botchergate in Carlisle. Settle yourself down to be transported into another world!
The plot is twisted and it's intelligent; it's perfectly executed and this along with the sense of place combine to provide one of the most outstanding reads of the year.
So just go and read it! You will NOT be disappointed!
Black Summer is available to purchase from:
About the author: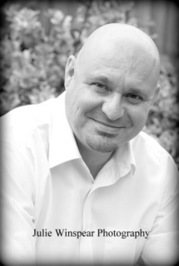 M. W. Craven was born in Carlisle but grew up in Newcastle, running away to join the army at the tender age of sixteen. He spent the next ten years travelling the world having fun, leaving in 1995 to complete a degree in social work with specialisms in criminology and substance misuse. Thirty-one years after leaving Cumbria, he returned to take up a probation officer position in Whitehaven, eventually working his way up to chief officer grade. Sixteen years later he took the plunge, accepted redundancy and became a full-time author. He now has entirely different motivations for trying to get inside the minds of criminals . . .
M. W. Craven is married and lives in Carlisle with his wife, Joanne. When he isn't out with his springer spaniel, or talking nonsense in the pub, he can usually be found at punk gigs and writing festivals up and down the country.