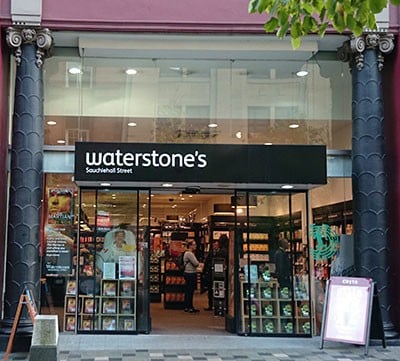 It's been a stalking kind of day for me today! First of all I took a sneaky wee extended lunch break to nip into Waterstones in Sauchiehall Street to catch Lin Anderson on her Time for the Dead book signing tour.
I was delighted to meet up with Blaze and Laoch (affectionately known as Wii Shiite) and their dad, Steve. The dogs, of course, are a part of Blaze'nTrails guided tours of Skye and they were the real stars of the show!
Lin and her co- stars of Time for the Dead are currently on a whirlwind tour of bookshops around Scotland. You can find the details here. I'd certainly recommend popping along to see them if you can.
Then I popped along to PrimaVera at The Avenue Shopping Centre In Newton Mearns to see Lin in conversation with Douglas Skelton. It's the first time I've ever been to this venue and apart from the traffic getting there in rush hour, it is a lovely event space.
Blaze and Laoch were completely unperturbed by the crowds, they are getting used to the stardom, I think!
Of course, it wasn't all about the dogs! Lin was here to talk to fellow crime writer, Douglas Skelton, about her latest novel, Time for the Dead – 14th in the Rhona MacLeod series.
First up Lin talked a little about how the idea for Time For The Dead came about. She had been up visiting Steve in Skye and had gone to the A.C.E Target Sports to do a little bit of axe throwing…as you do…when Blaze took her for a walk in the woods. That was when the visual image came to her and the story was born!
This tour is taking Lin, Steve and the dogs around 26 of the Waterstones stores in Scotland. While they say never work with animals or children, Lin told the audience it has been the best fun she has ever had on a book tour. She and Steve are currently working on a children's series featuring dog detectives…and you can guess who will be starring in those books! Watch out for them coming to a shelf near you! Described as Lassie meets Katie Morag, they are bound to be a winner!
Lin talked about her travels as she works to create a very real sense of place in her books and also her research with Police Scotland. This led her to talk about her character, Rhona MacLeod and the inspiration behind the woman and the novels. Lin's dad was a detective in Greenock and often worried about his daughters safety; this led to the nugget of an idea which resulted in the first Rhona MacLeod novel, Driftnet. And of course Rhona was inspired by one of Lin's former pupils who went on to study Forensic Science.
She talked about her writing process, how she keeps her writing fresh and her love of Harley Davidsons! All too soon the evening was over. A cracking night and again, if you get the chance to go see Lin on her whistlestop tour of Scotland with Blaze and Laoch, don't miss it!
Time for the Dead is available to purchase from