Well, once again, the curtain has come down on Bloody Scotland for another year. I've been home for less than 24 hours and already I've got my countdown started for Bloody Scotland 2020.
I'm a little bit of a broken record when it comes to this festival but it really IS the BEST festival for lovers of crime fiction. Established in 2012, Bloody Scotland is widely recognised as the leading Scottish International Crime Festival and like a fine wine, it improves with age.
There is something for everyone, from masterclasses in crime fiction, to panels, to football to music. But most of all it is attended by some of the top names in crime fiction from across the world. But despite this, it has never lost the sense of intimacy, of inclusion and a warm welcome for readers and writers alike.
I live just over half an hour away and could easily travel back and forward each day but such is the atmosphere I always book accommodation and stay from the Friday until the very last panel on the Sunday night. If I could clone myself, I'd attend every single panel and event! Some might say that it's thankful I can't as one of me is quite enough!
So here's a flavour of my weekend…
Friday lunchtime, I arrive at the Allan Park Hotel, which is a very short walk from the Albert Halls and Golden Lion. There are minimum hills to be negotiated when staying here, however, if you have mobility issues please note there are stairs into the building and to the rooms upstairs and downstairs, and at the time of writing there is no lift available. A tasteful small family run B&B it is situated in a residential area and perfect for those who like a quiet base to stay.

I was soon joined by my partners in crime for the weekend, #Twinnie aka Noelle Holten over at CrimebookJunkie and author of debut novel, Dead Inside and Sarah Hardy of Bytheletterbookreviews. Our third partner in crime the brilliant author, Alan Jones was also staying there, so he had no escape from us this weekend! Infact The Allan Park had been mostly taken over by Bloody Scotland for the weekend as also staying there were Mary from LiveandDeadly and author Madeleine Black and her husband Steve…so plenty of opportunity for criminal chat all weekend!
As is our usual we began the weekend with a small refreshment before heading up the hill to the Church of the Holy Rude for the McIlvanney Awards (you may note many mention of steep hills but the festival had commissioned a special Bloody Scotland road train taking passengers up and down to the castle on a daily basis as well as providing a mini-bus service between venues for those who required it).
The atmosphere was electric for the awards and this year they also had an award for the Scottish Crime Debut of the year. Four outstanding authors were shortlisted for this award (Claire Askew and All the Hidden Truths; Bill Jones and Black Camp 21; G.R. Halliday and From the Shadows; M.R. Mackenzie with In the Silence and Allan Martin with The Peat Dead).
The winner was…Claire Askew with All The Hidden Truths!
It was then time for the McIlvanney Prize itself and from an outstanding shortlist which included Doug Johnstone, Denise Mina, Ambrose Parry and Manda Scott, it was always going to be a tough one to call.
The winner was announced as Manda Scott with A Treachery of Spies. A cheer went up as she insisted that in the spirit of change she wished to share the prize with her fellow shortlisted authors!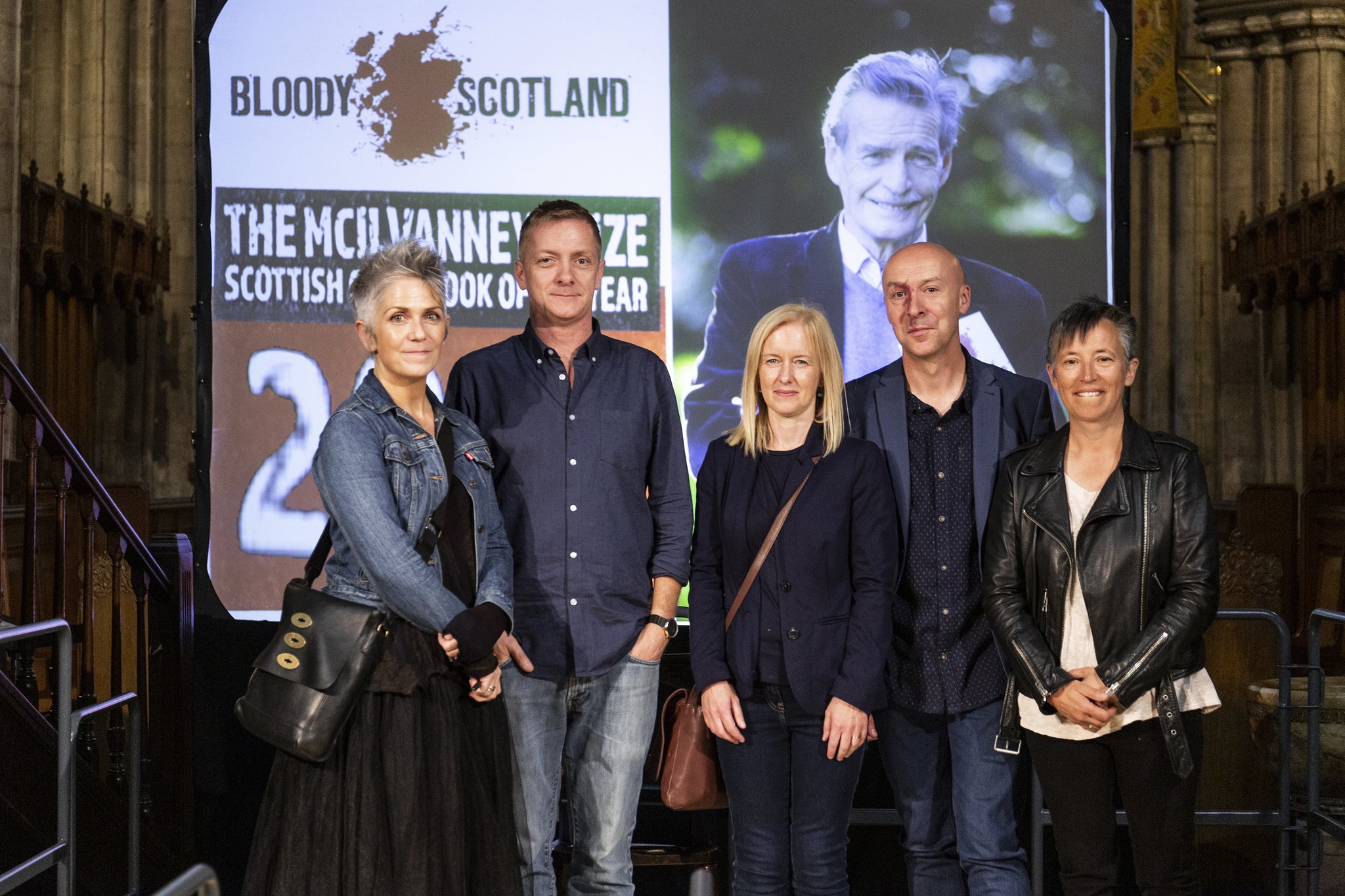 Then for me, it was my happy time…fire time! The torchlight parade…for this there are no words.
For us Friday night is a chance to catch up and chill in the Golden Lion which is where we headed straight after the parade. Two highlights of the night were, first of all spending some time with Blaze (the dog hero in Lin Anderson's latest novel, Time for the Dead) his wee brother Laoch and his dad Steve and then finishing off the night meeting one of my idols…Professor David Wilson…who was most possibly the nicest man I have ever met! Could easily have sat in his company for hours!
Saturday morning and the sun was shining again. A full on day started with some breakfast and caffeine to kick start the day.
First up was My Life With Murderers with Professor David Wilson, interviewed by Lin Anderson (yes I did feel as though I were beginning to stalk the poor man!) A fascinating insight into his work as a criminologist and his thoughts on the justice system and just how he gets inside the mind of a murderer! I could easily have listened to him all day!
It was then onto a full house for Murder in Wild Places with Douglas Skelton, Lucy Foley and CL Taylor. In this panel we talked about the open wilderness of Scotland as a setting for your book…and each of these authors have nailed the settings in their novels!
This was quickly followed by some Women in Gangland featuring Mandasue Heller, Marnie Riches and Anna Smith and this panel was an inspiration, with a cast of strong women showing just why women are no walkover! All things gangland were discussed and it was a fascinating insight, not only into their books but into the lives of the women behind the titles!
Time for a quick lunch before I headed off to We Are Detectives with Mike Craven, Mari Hannah and Peter Robinson. An informative and inspiring panel looking at the role of the detective in crime writing and indeed how each of the writers backgrounds informed their own work.
But the big event of the day was of course that our First Minister, Nicola Sturgeon would be interviewing Ian Rankin at the main event in the Albert Halls – but even bigger than this was the fact that #Twinnie Noelle had only gone and got herself the Crime in the Spotlight session with them! Sarah and I were allowed to sneak into the event to support her read from her debut novel, Dead Inside and can I tell you folks…she nailed it! Absolutely nailed it and sold out of her books at the signing event after! So proud of this woman and all she has achieved and she deserved this spotlight, she gives so much support to everyone else it is now her time to shine!
After all that excitement it was back to the Golden Lion to celebrate with more gin!
And before we knew it Sunday had arrived! The last day of the festival! The rain had come out but it didn't dampen our spirits at all!
First up was Pitch Perfect – a highlight of the weekend! The tension is real as seven new writers pitch their ideas in front of industry experts and what fabulous pitches they were! I didn't envy the panel having to choose a winner – but they did – and it was a winner who truly deserved it – Suzy Aspley with her "One for Sorrow" – this book is one I cannot wait to read!
More caffeine before catching up with the ever so bonkers, Theresa Talbot! We sneaked into the sell out play from Douglas Skelton in partnership with the Faculty of Advocates – "You The Jury". Well, when I say we sneaked in, Theresa, rather than saying we were on the guest list, announced with an astounding authority that we were part of the proceedings! I simply meekly followed and smiled! This was a fascinating reconstruction of a real trial in a real court house with real life lawyers, court staff and scientists playing their own parts. Brilliantly executed, this is something I'd love to see more of and kudos to Douglas for being an integral part of it!
More caffeine and a blether with Mary and a delight to catch up and chat with aspiring writer Claire Wilson (check her out at @ByClaireWilson over on twitter, what a lovely young woman!)
then it was the last panel of the evening. All in the (Dysfunctional) Family with Doug Johnstone, Iain Maitland and Michael J Malone, chaired by Douglas Skelton. The panel was absolutely BONKERS! Poor Douglas Skelton is probably in therapy now – he gave up trying to control them and the event descended into hilarity and insanity! What a way to end the festival!
And so, Bloody Scotland 2019 was over. What a weekend of inspiration, information and all things crime! But most of all, a weekend spent with people who mean the world to me, people who are my tribe.
We are all booked up for next year already. (Dates are 18-20th Sept 2020)
If you want to keep up to date with what's going on at Bloody Scotland you can keep up here:
To all the Bloody Scotland Team, the board, the staff, the volunteers and the writers, thank you from the bottom of my heart for all that you do!
heres chun ath-bhliadhna