As we are just about to reach the 12 month anniversary of lockdown due to the #YouKnowWhat the first Crime Writing Festival of 2021 has just taken place. This year there was no trip up to the northern lights of old Aberdeen for us crime lovers, no trip down memory lane for me, as I relived my early student days in the granite city and no chance for me to catch up in person with my book tribe. BUT, us crime lovers are a hardy lot and we are not going to let a pandemic stop us getting our fix of criminal delights! Granite Noir went online for the first time ever!
The line up for the weekend was sublime and I gorged myself on a whole feast of crime writing greats!
The team at Granite Noir also recognised just how important those after panel chats are and they set up a Twitter hashtag #GNPostMortem to allow attendees to dissect the best bits of the day! You can search the # to find out what everyone else thought.
Opening night on Friday 19th was a cracker with Stuart MacBride and Ian Rankin kicking off proceedings followed by Attica Locke. Imagine spending Friday night with those three greats in my PJs!
I then joined in the online chat with my fellow bibliophiles!
Saturday saw a 10am start with Theresa Talbot hosting the Bold New Voices, Femi Kayode, Susie Yang and Saima Mir. Normally I'd be heading to the Lemon Tree for a few coffees to wake me up from the night before, prior to the event but this morning my head was clear and I fell from my bedroom into my office to catch the first event!
I was lucky enough to bag a ticket for the writing workshop on the Saturday, character building with D.V Bishop. Armed with my pen and notepad, the 90 minutes flew by and I came away with pages of notes and oodles of inspiration!
I also caught up with the fantastic Will Dean, Catherine Ryan Howard and SJ Watson who talked about their process and gave lots of support to new and emerging writers!
Saturday night was spent with the most fascinating Camilla Lackberg whose one hour session was over in what felt like minutes
The final event of the day was Dr Noir, Jackie Collins in conversation with Jo Nesbo.
Sunday saw me binge out on some mugshots from the past in the Criminal Portraits webinar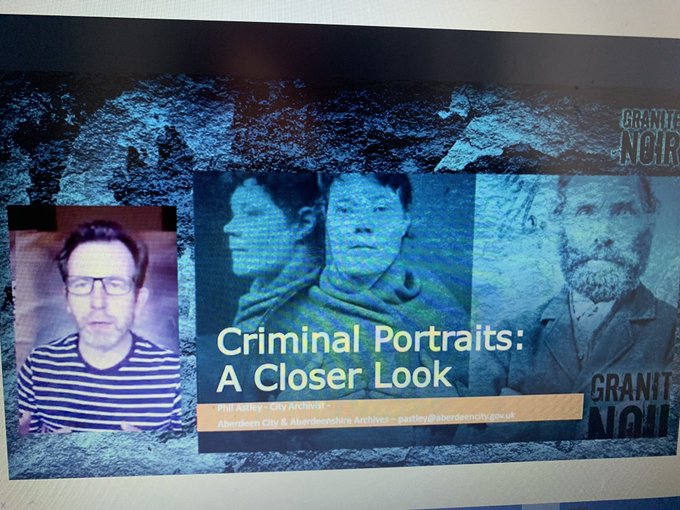 STRANGER THAN FICTION? with Isla Traqair and Candice Gaines was thought provoking and heartbreaking at times.
Peter May went viral at 6pm in conversation with Bryan Burnett and was followed at 8pm with a show stopper from David Baldacci
So, the verdict? OK, I'm not going to lie, I miss my IRL events so much, I miss seeing all my fellow readers, writers, bloggers and booklovers and I miss the connections I've built with folk over the years. I miss my #BookTribe BUT having events online means festivals are opened up to anyone and everyone across the globe. No longer are book lovers constrained by travel or budgets and that has got to be a good thing, right? It also makes the festivals much more accessible for those who, for many reasons, are unable to travel or attend big events; another good thing right? And for those on a limited budget, travel to all the festivals once you throw in your transport, accommodation, ticket and food costs, is just a non-starter! Another tick in the great big tickety tick box!
So while the #YouKnowWhat may restrict our movements for a while yet, it's good to know that the festival organisers are adapting to this way of being for the moment. It has also got people thinking about the future, so perhaps we will see a move towards hybrid events, which can only be good for everyone!
A huge thanks must go to everyone involved in pulling a festival together, whether it be online or in real life. And for most of this year, the majority of events have been free to access. However, because something takes place virtually, it doesn't mean there is no cost involved. So if you are attending any of the online festivals free of charge, check out the information that the organisers provide, there is usually a means of making an optional donation towards the future funding of events, please, if you can afford to do so, rattle those coins into the funds! To make a donation to Granite Noir you can click here
And of course the writers! Please buy their books! Waterstones have all the featured authors' books available to purchase online
So, thank you to everyone who was a part of #TeamGN2021, it was a blast and I hope and pray that I can be there in person next year!