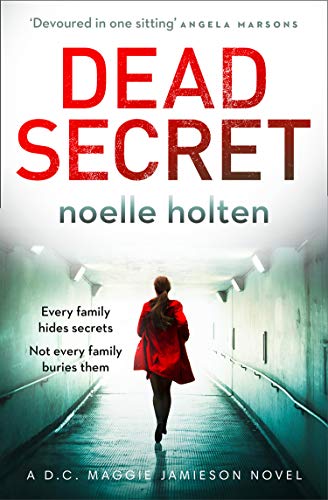 I've been waiting for Dead Secret to be published for, what seems like, forever! And it gives me great delight in taking part in the #BlogTour for Noelle Holten's latest in the DC Maggie James series. And I am totally BUZZING to be one of the bloggers kicking off this tour! Thanks to Sarah over at BOTBS Publicity and the author for asking me to take part!
Before I share my thoughts here's what the official blurb says:
Psychopaths can take root in the unlikeliest soil…
DC Maggie Jamieson crosses paths once again with Probation Officer Lucy Sherwood when a domestic violence survivor stumbles into her new refuge, unable to speak, desperate for help.
Then another case hits Maggie's desk. A young man has been murdered, and a curious constellation of black dots has been inked onto his cheek.
That's when DCI Hastings goes missing and Maggie uncovers a shocking connection that turns the case on its head.
Every family may hide secrets, but not every family buries them…
My thoughts
Oh wow, what can I say? Am I allowed to write a review that says, "Just go buy the damn book!" Noelle Holten sure knows just how to get readers eating out of the palm of her hand with this series. Each chapter in Dead Secret is delivered wrapped in layers of delicious tension and dark intrigue; each word is laced with menace and leaves your head spinning as you try to work out just who you can trust.  
I was delighted to be back in Lucy Sherwood's company here. Fans of the series will know her well from book one. She is one of my favourite characters, a woman who has lived through so much but still stays standing. She's definitely my kind of woman! But of course it's not all about Lucy, DC Maggie Jamieson is at the core of this series and once again Noelle Holten puts her through the mill and then some; murder, missing colleagues and a whirlwind of conflicting emotions running through her head when it comes to her personal life. Poor Maggie…devious Noelle Holten!
One of the features I love about this series is that we have a cast of characters who pop in and out of each book, some featuring more than others depending on the storyline. It creates what feels like a mini TV series with characters who feature throughout. So, as a reader, I have a real sense of getting to know them, becoming caught up in their lives and their worlds, and when I pick up one of the books I really do feel as though I am part of the world the author has created!
Almost immediately you are immersed in the storylines and it is a pleasure to watch them merge and weave together to a conclusion that is both satisfying but also leaves you wanting more. There is a real authenticity about this series and it is clear the author knows her stuff. The multi-agency approach that exists in the real world is portrayed to perfection here, of course with some artistic licence, meaning it isn't bogged down in procedure.
And of course the twistiness that we have all come to know and love from this author is out in force. There is a real dark mind at play here, lacing each page with tension and providing the reader with the dark thrills they seek, the pacing will see your heart race as the truth is uncovered. And that ending, Noelle definitely knows how to leave her readers desperate for more! Lovers of darkness, you will not be disappointed!
Don't forget to check out what the other bloggers are saying:
Dead Secrets is available to purchase from
About the author
Noelle Holten is an award-winning blogger at www.crimebookjunkie.co.uk. She is the PR & Social Media Manager for Bookouture, a leading digital publisher in the UK, and worked as a Senior Probation Officer for eighteen years, covering a variety of risk cases as well as working in a multi agency setting. She has three Hons BA's – Philosophy, Sociology (Crime & Deviance) and Community Justice – and a Masters in Criminology. Noelle's hobbies include reading, attending as many book festivals as she can afford and sharing the booklove via her blog. Dead Inside – her debut novel with One More Chapter/Harper Collins UK is an international kindle bestseller and the start of a new series featuring DC Maggie Jamieson.
Connect with Noelle on Social Media here:
Subscribe to Newsletter: http://ow.ly/cgww50BkBtt
Twitter: (@nholten40) https://twitter.com/nholten40
Facebook: https://www.facebook.com/noelleholtenauthor/
Blog FB page: https://www.facebook.com/crimebookjunkie/
Instagram: @author_noelleholten
Website: https://www.crimebookjunkie.co.uk
Bookbub Author page : https://bit.ly/2LkT4LB